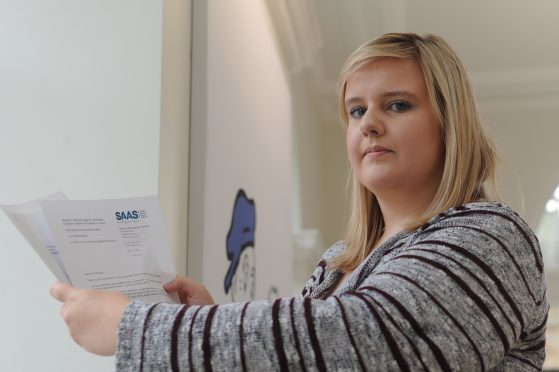 A Dundee student believes she has been wrongfully left with almost £30,000 of debt after being caught up in an administrative loophole.
Kiera Marshall was told by the Student Awards Agency for Scotland (SAAS) she would need to apply to Student Finance England (SFE) for funding and has to borrow £9,000 for three years of her four-year art and philosophy course at Dundee University – a total of £27,000.
The 22-year-old currently lives in Westport and spent most of her childhood in Scotland. Her family travelled during her upbringing as her father was in the Armed Forces.
She finished her school exams in England as well as a college course, which in turn led to SAAS refusing to pay her tuition fees as she did not live in Scotland for the three years that preceded the start of the Dundee University course.
Now in her final year of the course, she was told by a financial adviser at the university she should have had her tuition fees paid by SAAS. The funding body later agreed in a letter that they "would potentially have been able to offer support" but as SFE had already begun support there was nothing they could do.
Both Keira's parents were born in Dundee. Her father signed up to the Gordon Highlanders and later The Black Watch. He retired from the army in 2011.
The Armed Forces Covenant, a "promise from the nation that those who serve or have served, and their families, are treated fairly", states "those who serve in the Armed Forces and their families, should face no disadvantage in the provision of public and commercial services" due to a family's need to travel in service.
Keira feels she is being treated unfairly due to circumstances outside of her control and she and her father have been left frustrated about the situation.
"I acted on the initial wrong advice from SAAS to apply to SFE," she said. "I am Scottish, my parents are Scottish and my grandparents are Scottish. I attended a part-Ministry of Defence-funded boarding school in Scotland but because I lived in England, I am not entitled to the luxury of funding in Scotland.
"If SAAS is refusing to fund me due to being a resident in England through no choice of my own, then the current discriminatory system in place needs to be revised."
A SAAS spokesperson said they can not comment on individual cases but generally people need to be a resident of Scotland for the three years prior to their course starting.