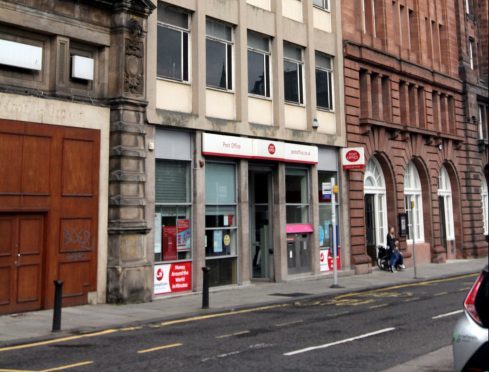 An "essential" visa verification service for overseas students and residents has been dumped by the Post Office in Dundee.
People who use the Biometric Enrolment Service will have to travel to Perth, after the Post Office confirmed it would be ending the programme in the city when it shuts its Crown business on Meadowside.
A new franchise is due to open on Whitehall Street and will be run by a private company, QDSA Limited.
The Meadowside branch will close on February 7 at 5.30pm, with the replacement enterprise opening at 8.30am on February 8.
Those who require a permit will be able to pick up an application form in the new Dundee branch, but in order for it to be processed they will need to make an hour-long bus journey to Perth.
Labour councillor Richard McCready said he was worried that dropping the service could harm Dundee's students, especially amid the continuing uncertainty over Brexit.
He said: "I am clear that Dundee should have a Crown Post Office which is the best post office service. I am disappointed that this service will be downgraded.
"As a city with a large student population I am disappointed that the Biometric Enrolment Service will not be retained in Dundee.
"This will move to Perth which, as the Post Office's response helpfully points out, is a 65 minute bus journey away from the centre of Dundee.
"This will be a major inconvenience for many overseas students, with the possibility of the numbers needing to use the service increasing after Brexit."
Mr McCready said he was also concerned about the loss of a Living Wage employer while Dundee has ambitions to be a Living Wage City.
"This was the wrong decision," he added.
Roger Gale, Post Office Ltd sales and trade marketing director, said: "We believe franchising this branch will allow us to better secure Post Office services in this community for the longer term and help strengthen and secure the Post Office network as a whole.
"We already run the vast majority of our network on a franchise or agency basis and delivering services through these branches is proven to be successful.
"After careful consideration of the feedback received, I am confident the new branch will be suitably located and it will continue to meet customer needs and deliver an excellent service, while helping to provide future sustainability for the branch and maintaining a Post Office presence in Dundee.
"The same wide range of Post Office services will continue to be available, with the exception of the Biometric Enrolment Service for the Home Office. This will relocate to Perth."