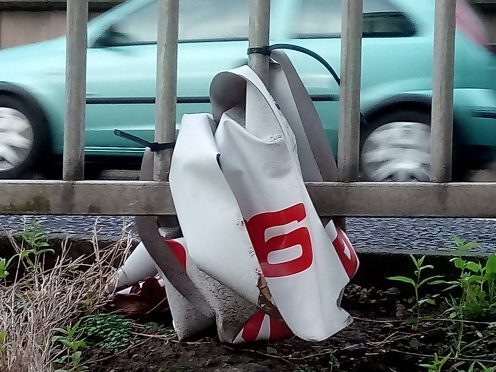 Road side banners and unofficial posters are to be torn from Dundee's streets as part of a council crackdown.
Chiefs say a glut of unwanted and unauthorised advertising has blighted the city in recent months and a team of staff have been drafted in to combat the issue.
One civic minded resident has even taken it upon themselves to pull down more than 100 illegal hoardings, according to depute convener of city development Councillor Mark Flynn.
From now on people wanting to advertise community events, such as bake sales and coffee mornings, will have to seek permission from the authorities before putting up posters – or face the consequences.
Dundee City Council claims unauthorised adverts tied to lampposts, safety banners or other street furniture pose a safety risk to road users and pedestrians.
Teams of council workers will patrol the city over the coming weeks on the look out for any adverts which breach the rules.
The authority is also teaming up with BEAR Scotland to tackle roadside signs.
It is not clear yet how far the council intends to go in sanctioning offenders. However, in February, a Bolton hot tub company was fined almost £1,000 for posting illegal adverts on the side of a house.
Animal charity leader Angie Smith, who runs the Missing Pets Dundee and Angus social media websites – as well as the Angus Cat Rescue centre – said the move could harm her supporters' efforts.
She said: "It would be a shame if people were not able to put up their flyers in their local areas if they are searching for a missing and cherished pet.
"It would certainly hinder the searching process.
"I would advise people, if they place posters on lamposts and similar things, to take them down after a short period and perhaps stick them on noticeboards in shops and local businesses."
Mr Flynn said the issue of unauthorised advertising was something that almost every councillor had to deal with.
"While there always seems to be a low level of this kind of activity, recently we have seen an absolute glut and enough is enough," he added.
"I know of one person who has taken it on himself to remove these and has collected more than 100 from various locations in just a few days.
"They are a hazard and danger to all road users and there are very good reasons why anyone who wants to put up such banners needs to go through the proper channels.
"So the message to any business or individual who is considering putting up an advertising banner like this is simple – if you haven't asked us, don't do it.
"There are plenty of legitimate sites where advertising can be displayed in Dundee, and while I realise that they have a cost, part of the price you pay is to ensure that road users are not distracted by something put up in an unsafe location."