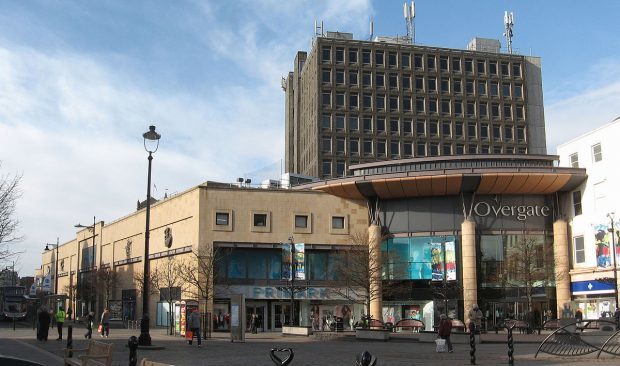 An old 10-storey office block attached to Dundee's Overgate Shopping Centre is set to be demolished.
City House, which was built in the 1960s as part of the original centre, will be partially knocked down next summer.
A new management suite will be created as well as a brand-new click and collect facility for online shopping.
It will mean the block's main office area will be lowered to level three, with the building's only leased tenants, pension company Curtis Banks — located on the 10th floor — required to move when their lease expires in January 2018.
The Overgate Management Team will have to leave its fifth floor base.
The plan, submitted by real estate consultants CBRE, will also mean the relocation of Regis Hair which occupies unit 28 of the Overgate.
Legal & General Property bought the shopping centre from Land Securities for £125 million in 2014 but has struggled to attract tenants to the building.
Property developer says council's waterfront offices move is 'very high risk' with potential for big reward
In a planning report, CBRE said the scheme would provide an opportunity to remove an ageing building of "limited architectural interest" and enhance the appearance of the shopping centre and wider city centre.
The report, by CBRE senior planner Samantha Jackson, said: "The redevelopment of City House is part of a wider agenda for the long-term development for the shopping centre to modernise and improve the overall appearance of the shopping environment.
"Since purchase in 2014, our client has been actively and continually marketing the available office space within City House.
"Unfortunately, over the period of ownership to date, there has been little to no demand received."
The plan will also see a new roof built on the remaining floors of City House and the Overgate.
The click and collect facility in unit 28 will feature Amazon parcel delivery lockers and a new customer service centre.
The report adds: "Feedback from our client's agent is that City House is not seen as a traditional office location.
"In recent years, there has been development within Greenmarket, Waterfront and City Quay areas of the city and it is these areas that see most activity.
"This proposal contributes to the continual improvement of Dundee City Centre and its role as an attractive place to be, through the removal of a building which continues to deteriorate and whose demolition will significantly improve the skyline of Dundee."
The shopping centre will stay open during the demolition work with levels three and four of City House to remain following its completion.