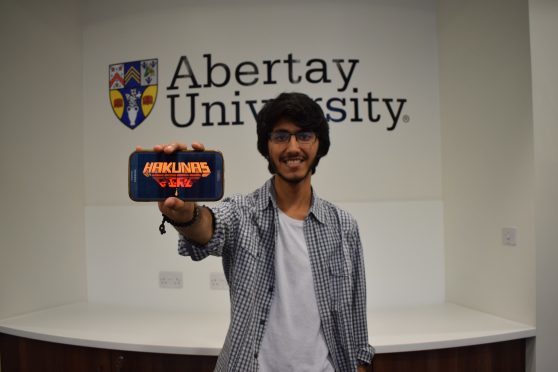 An award-winning student from India broke with a family  tradition to take up postgraduate study in computer games at Abertay.
Rishikesh Lokare from Pune has arrived in Dundee early to enrol in Abertay's MProf in Games Development.
Although both his parents and brother are already working in software engineering, he opted for a more artistic route.
Having completed a course in computer science in 12th grade at school, Rishikesh was accepted onto the second year of a video games art course at Rubika Supinfogame Institute of Art & Design in Pune, due to a strong portfolio.
It was there he created stealth adventure game Hakuna's Fire, which went on to win the FICCI Frames Award BAF Student Game of the Year 2016 (India).
"I was very interested in art and used to go to an art class as a youngster," Rishikesh said.
"Before leaving Rubika Supinfogame I heard about Abertay and found out that it's the best games university in Europe and one of the top ten in the world for postgraduate study.
"Because this year is 20 Years of Games at Abertay, it seemed like a really good opportunity to come to Dundee – so it was my main goal when choosing a university."
Over the course of 2017, Abertay has run a programme of celebrations marking 20 years since launching the world's first computer games degrees.
Earlier this year the prestigious Princeton Review named the university number one in Europe for undergraduate games degrees and in the world top ten at postgraduate level.
Rishikesh said the way Abertay games courses are structured was what attracted him to Scotland.
He said: "Eventually I want to run my own business and I expect to go back to India to set up my own gaming company.
"At Abertay I hope to gain experience of what it's like working in a company environment and find out how to create work while under time pressure."
The MProf in Games Development sees students learn core development skills through applied project work, supported by experienced industry practitioners.
As part of the course, students learn how to apply developing technologies and practices to their own projects and demonstrate work to leading industry figures.