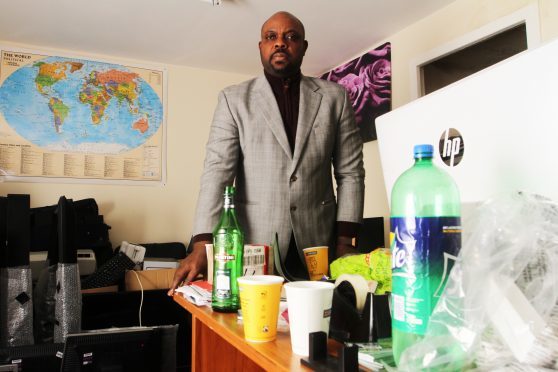 A Dundee businessman has said his company faces ruin after thieves ransacked the property -and partied as they did so.
Oluwafani Oke, 47, runs Alpha-Omega World Freight Services in the Hilltown, which ships goods around the world.
He closed the business on December 18 to travel to his homeland of Nigeria.
But when he returned to the premises on Thursday morning he discovered thieves had ransacked the company's office and store, stealing potentially thousands of pounds worth of goods.
The offices of a second company based in the premises, Evagreen Environmental Services Ltd, were also trashed in the raid.
The culprits tore open packages bound for Nigeria and left the contents strewn across the floor.
To rub salt into Mr Oke's wounds, the brazen crooks left behind empty beer and Martini bottles in his office.
They even helped themselves to chocolate Mr Oke had bought for his children and discarded the wrappers on his desk.
It is thought they stole more than a dozen bags due to be shipped to Africa and tore up several more.
They left behind, dozens of items including computer monitors, sewing machines and amplifiers.
Mr Oke said: "I was last here on December 18.
"When I came this morning the shutters were down and the lock was intact but when I opened the door the whole office had been ransacked.
"There were 19 bags to be shipped but I can only find five of them now.
"It's just too much. I'm absolutely devastated. This is massive.
"People will be suing me for what has been taken."
Mr Oke said he has full invoices detailing everything that was stored in the Hilltown premises and will have to spend hours working out exactly what has been stolen.
He said: "There are even drink bottles and cups on the desk.
"There are four beer bottles but I don't even drink.
"They even ate the chocolate I bought for my daughter. They really made themselves at home."
Mr Oke said he fears the raid means the end of his business.
He said: "I have invested all of my life in this since 2015.
"If anybody told me this would happen I wouldn't have believed them.
"Whoever did it must have had a key because there's no sign of any force."
A spokesman for Police Scotland said: "We are aware of the incident and are investigating."