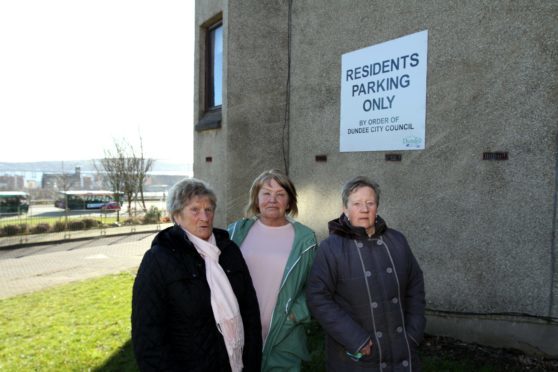 Residents of a Dundee street said they have been left "in limbo" over mixed messages from the council about parking on their street.
Crescent Lane is said to be used by drivers who leave their cars before going to town "all the time".
After years of struggling to get parked on their own street, locals saw a glimmer of hope when a sign was put up on the side of one of the buildings saying parking was for residents only.
However, after seeing the sign being ignored by drivers, Sandra Small made a call to the Gellalty Street parking office, only to be told the sign was a "mistake" and they did not know anything about it.
Sandra said: "We've been fighting for this for 10 years.
"A man who says he was from the council knocked on our door last week to make sure it was okay for him to put up a sign on our building for resident parking. That was fine, we thought, because we'd been waiting long enough for it.
"But then to be told it was a mistake is frustrating. We have been left in limbo. We don't know what's going on."
She described the difficulty of getting parked outside her own home as people working and visiting the city centre will often "clog the street rather than pay a few pounds to park in town".
She added: "People do not care. If you don't want to pay for parking then you should get the bus."
Sandra has been living on the street for 25 years and said it's "gradually" got worse.
She also said one homeowner even broke their exhaust pipe mounting a kerb as a result of other cars parked and hogging the narrow lane.
The problem has been so bad some residents leave handwritten notes under windscreen wipers of alien cars asking drivers not to block the road.
A Dundee City Council spokeswoman said the sign was placed as a reminder parking on the street is intended for residents only.
She said: "These signs have been put in place at the request of residents."
However, no parking permit system is in place, or in the pipeline, on Crescent Lane.
Sandra retorts that the sign has had no effect so far  and wants the council to do more.
"They should not just put up a sign and do nothing," she added. "If they're not going to enforce it, what's the point?"