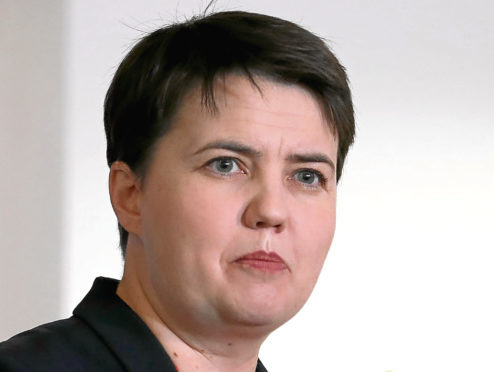 Scottish Conservative leader Ruth Davidson has said convicted murderers should no longer be allowed home leave.
Speaking after Robbie McIntosh was given a lifelong restriction order at the High Court in Aberdeen for a brutal attack on Dundee dog walker Linda McDonald in Templeton Woods last year, Ms Davidson urged First Minister Nicola Sturgeon to scrap home leave for convicted murders.
Speaking at First Minister's Questions in the Scottish Parliament, Ms Davidson said "When cases like today's emerge, the question from the public is why again?
"Why is a killer let loss to try to kill again? Why are the dice loaded against victims and in favour of criminals again?
"Why do we only act when another family is left to pick up the pieces of their lives?
She demanded: "Home leave for convicted murderers, where they are free to walk the streets before they even face the parole board, should be reviewed.
"The question from the public is why again are the dice loaded in the favour of criminals and not their victims.
"Home leave for convicted murderers where they are fee to walk the streets before they have even met the parole board has to end.  Is it not that simple?"
Ms Davidson said last year there were more than 4,000 cases where prisoners were granted such home leave before they had been in front of a parole board.
She said: "I don't think it is unreasonable for the public to expect prisoners to serve their time."
But SNP leader Ms Sturgeon said home leave was a "long-established" part of the rehabilitation process.
She said: "The worst thing to do is to have a prisoner simply released on the last day of their sentence without any steps to reintegrate them.
"That's why a system of home leave is an important part of the criminal justice system".
Ms Sturgeon also said the SPS' serious incident review into the circumstances leading to McIntosh being granted home leave have now been passed to MAPPA Tayside, the body responsible for monitoring serious offenders.
And she promised "lessons would be learned" from the McIntosh case.
She said: "Any lessons learned from this case, and undoubtedly there will be, then of course they require to be applied for the future as well.
"I can entirely understand and sympathise with the views of the family. If I was in the shoes of the family members of this victim, I would be saying exactly the same things.
"However, I would say that it is right that the most rigorous of risk assessments are undertaken by the prison service as opposed to the parole board to decide on matters of home leave. It's also important that strict conditions are applied.
"These are not simple issues, these are really complex issues."