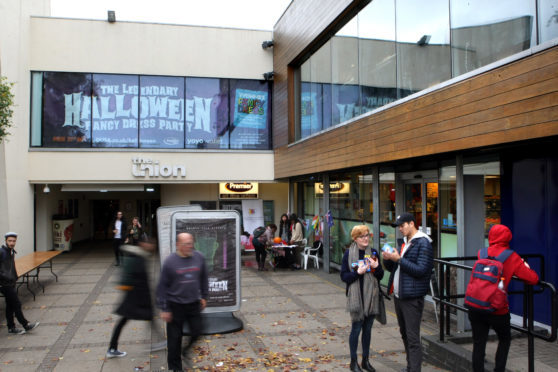 A bid by Dundee's student union to ban the sale of three national newspaper titles on campus has been branded "regressive censorship".
A motion was backed by Dundee University Students' Association's ruling body to remove the Daily Mail, Daily Express and The Sun from its shops.
Sean O'Connor, the DUSA president, said the newspapers "do not match our values" and run "inflammatory and sensationalised articles that demean and insult members of our community".
But the move has been condemned by critics as an erosion of freedom of speech.
Ross Starke, a politics student who works as a Dundee United kit man, leads a group of students opposed to the ban.
"It is regressive censorship that goes against freedom of speech," the 21-year-old said.
"Surely the university should be encouraging students to think freely, develop their thought, debate and challenge things they disagree with.
"A protectionist move such as this does not set students up well for when they graduate and are exposed to a wider range of views.
"It also sets a dangerous precedent by trying to marginalise a mainstream side of news as well as normalising real hate and extremism."
In a draft motion to the student representative council, Mr O'Connor said selling the titles undermines the union's commitment to diversity.
He told The Courier: "As the president of DUSA I introduced an idea for debate to our democratically-elected student representative council regarding the sale of newspapers which do not match our values.
"This idea was intensely debated and, at this time, is undergoing significant reform and consultation."
The motion was supported by the SRC but still needs final sign-off. DUSA has not ruled out staging a referendum.
The original text reads: "This motion proposes that DUSA, following previous actions such as the Boycott of The Sun, stop stocking the Scottish Daily Mail, the Scottish Daily Express and the Scottish Sun, in accordance with the Stop Funding Hate Campaign.
"I am also proposing that we cease to allow any pop-ups on social media or online for these newspapers."
Last month Virgin Trains reversed its decision to stop selling the Daily Mail on its West Coast services pending a review.
The paper's stance on issues such as immigration was "not compatible" with the company's belief, staff were originally told.