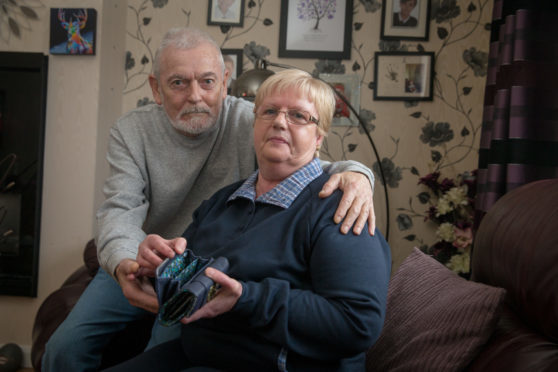 A disabled Dundee pensioner has spoken out after being preyed on by a callous thief who followed her around a supermarket and stole her bank card.
Muriel Ettle, 71, was approached by a woman outside the Tesco store at Kingsway West retail park and was asked for change of a £1 coin.
While she was looking for the coins, the woman swiped a bundle of cards from her purse, including a debit card.
Muriel now wants to raise awareness of what happened and warn others.
Her warning comes after police issued a similar caution to the public following a spate of distraction thefts at car parks in Ninewells Hospital, Aldi and Tesco in Dundee and Angus on March 8 and 9.
She said: "I was one of the people targeted.
"Last Friday my husband and I were in the Tesco Extra at around 1pm. I paid with card at the till and there was a girl more or less at my back as I was paying.
"We then went out to the car park. I have arthritis and use a walking stick, so we were parked in a disabled bay and I was waiting for the driver next to us to leave as I need a lot of space to open the door.
"Just as I'd got in the girl who had been behind me at the till approached me. She must have followed us out and waited while we were getting into the car.
"She asked if I had change of £1 and I said I would have a look.
"At this point I was sitting down in the car and she was above me, looking into my purse. She even put her hand in there at one point to see what coins I had.
"Eventually I did find enough change and she thanked me, before going away.
"I didn't get a good look at her face but she had long, dark hair and was wearing a mustard-yellow coat. She had a foreign accent."
Meanwhile, Muriel's husband John, who had been putting the trolley back, noticed another female waiting a short distance away for the woman who had asked for change.
He had a hunch that something wasn't right and, upon checking her purse, Muriel noticed her bank car, along with some shop loyalty cards, were gone.
The couple had to call the police and cancel Muriel's card, which had fortunately not had any money stolen from it.
Muriel added: "I felt so upset and angry.
"I also felt foolish that my card had been taken out of my purse when I had it in my own hand. In future I won't be so obliging.
"I dread to think how awful this would be for someone older and more frail than me. That kind of thing can really shake people up."
A Police Scotland spokesman said inquiries continue.
The suspect was described as being an eastern European woman, but police cannot confirm if it was the same person on each occasion.