Lorraine Kelly flew out to give support to children's TV legend Timmy Mallett on an emotional cycle tour in memory of his brother.
The Mallett's Mallet presenter-turned-artist is undertaking a 2,000km cycling adventure from Maidenhead to Spain along the Camino de Santiago pilgrimage route.
It's a hugely emotional journey for the popular entertainer who embarked on the six-week trip to Santiago shortly after his beloved brother Martin was laid to rest in Aberdeen following his death at the age of 64.
Timmy is taking part in the cycle to raise awareness for mental health and how people can realise their potential just like Martin who was born with Down's syndrome.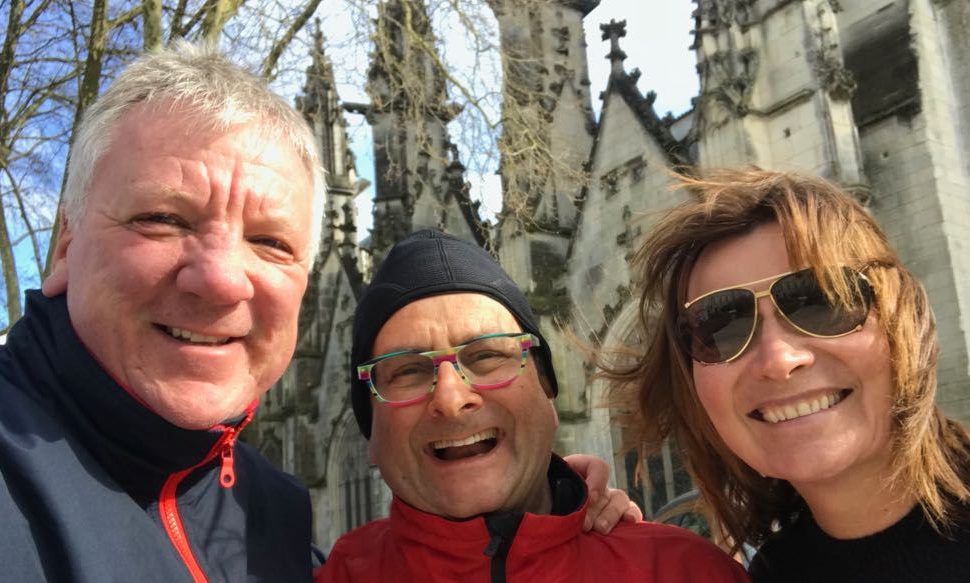 Lorraine and her husband Steve surprised Timmy in Saintes in France with a visit which was described as a "magical moment" by the 62-year-old.
He said: "I was having a cuppa in Saintes in a rare moment of sunshine when who should come up and tap me on the shoulder?
"Steve my Wacaday cameraman and wonderful cycling pal and lovely Lorraine Kelly.
"Such moments seem easy and ordinary but they are not.
"This was the best thing ever.
"Friends are what make the world so special.
"I'm so grateful I have them."
Lorraine said she was "so proud" that her former breakfast TV colleague was "doing this for Martin".
Timmy and Lorraine worked together on TV-am in the 1980s on ITV and Lorraine's husband Steve was Timmy's cameraman on his kids TV show Wacaday.
Timmy and Steve cycle together and have been regular visitors to Courier Country over the years where Timmy has used Tayside as inspiration for his artwork.
"Martin passed away at the start of March," said Timmy.
"I am carrying him in my heart, and his name tags in my pocket to remind me every day that all I have to do is be the best Timmy I can be."
"Despite Down's syndrome, dementia and learning difficulties, Martin never ceased to make the most of every day."
The Camino de Santiago – or the Way of St James – was first taken in the Middle Ages, when King Alfonso II heard that the holy remains of the apostle St James had been discovered, and travelled west from his court in Oviedo to Galicia to confirm it.
He ordered a basilica to be built to house the remains in Santiago de Compostela, and that cathedral became a shrine, with Catholics flocking from across Europe to pay their respects – and to cut down on the time they'd spend in purgatory after death.