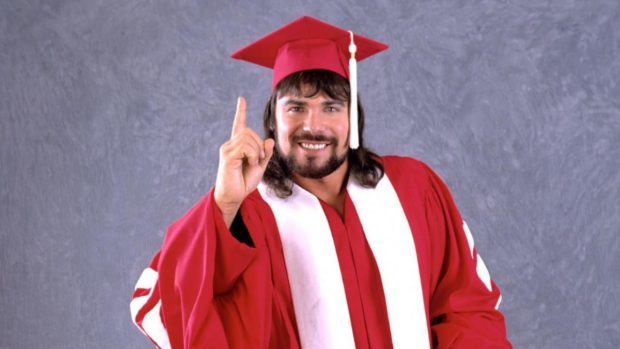 He is the man who could rival tragedian of Dundee William McGonagall for poetry to stir the emotions.
So it's perhaps fitting that wrestling hero The Genius has been announced as the first guest at this year's Scottish Wrestling Entertainment (SWE) Hell for Lycra at Dundee's Caird Hall.
The Genius, whose real name is Lanny Poffo, is famous for his poems and limericks which ridicule his opponents before matches.
He wears an academic cap and gown to the ring and would often write a mathematical equation on a clipboard to tilt the balance of a match in his favour.
Dundee-based SWE has previously brought big names to the city including Million Dollar Man Ted DiBiase, Virgil, Rowdy Roddy Piper, Chyna, Tatanka and Hacksaw Jim Duggan.
Poffo is also the real-life younger brother of 'Macho Man' Randy Savage who was widely regarded as one of the greatest professional wrestlers in history.
SWE owner David Low said: "Lanny Poffo is the first of our three guests.
"This first announcement is bittersweet as we had planned on booking Randy Savage just before his untimely passing.
"Lanny is of course The Genius from WWE and will be bringing Randy's Hall of Fame ring for the fans to wear at signings.
"The Genius was instrumental in building up some of the biggest stars in WWE back in the day by providing some excellent matches or great poems that helped build them into stars.
"His speech to transform The Macho Man into the Macho King is still a talking point today.
"His poems and speeches have made men and even broken them."
Poffo began wrestling in the 1970s before becoming a star in his father's promotion, International Championship Wrestling (ICW), where he held the promotion's title.
He started life in the WWE in 1985 as Leaping Lanny Poffo and attained some infamy in late 1986 and early 1987 by competing in full knight's armour.
He competed in a Battle Royal on Saturday Night's Main Event in 1987, where he was headbutted and eliminated by André the Giant, causing him to bleed heavily all over the floor and have to be carried out on a stretcher.
Poffo was subsequently re-introduced in 1989 as The Genius and his wrestling career was highlighted by victory over WWE World Heavyweight Champion Hulk Hogan.
Poffo left the WWE in early 1991, but returned later that year when he became the manager of The Beverly Brothers but left again in 1992.
He returned in May 1994 and defeated Koko B Ware in two house shows in Florida.
Tickets for Hell for Lycra on Saturday August 18 are available now.
William Topaz McGonagall
Widely considered the worst ever poet in the English language, William McGonagall (1825-1902) was a Dundee carpet weaver with a sideline in terrible verse and was most famous for The Silvery Tay, commemorating the Tay Bridge Disaster, which occurred on December 28 1879.
McGonagall described how it was in Paton's Lane that he was moved by the 'spirit of poetry'.
He published over 200 poems, a few folk tunes and a play.
His audiences threw rotten fish at him and the authorities banned his performances but his books remain in print to this day, and he's been remembered and quoted long after more talented contemporaries have been forgotten.
Famously he received a letter in 1894 purportedly from the King of Burma and the Andaman Islands informing him that he had been knighted as 'Topaz McGonagall, Grand Knight of the Holy Order of the White Elephant Burmah'.
Despite it being a fairly obvious hoax, McGonagall referred to himself as William Topaz McGonagall, Knight of the White Elephant, Burmah, in his advertising up until his death in 1902.
He died in poverty and was buried in a pauper's grave in Greyfriars Kirkyard.
The cause of his death was attributed to 'cerebral haemorrhage.'
There is a plaque above his place of death in South College Street, reading: "William McGonagall, Poet and Tragedian, Died Here, 29 September 1902."