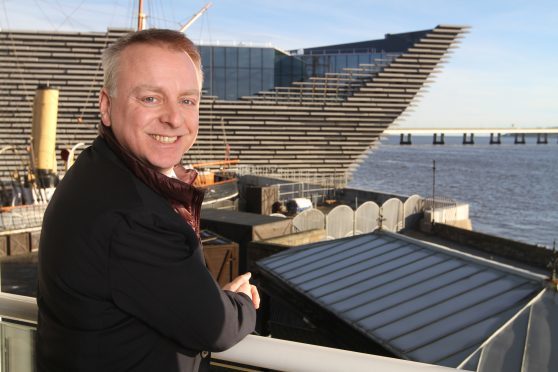 The director of V&A Dundee has said he wants the £80.1 million museum to attract visitors from across the globe.
V&A Dundee director Philip Long said there are 1.5 million people living within a 90-minute drive of the waterfront but he wants the Kengo Kuma-designed museum to also attract international visitors.
In an interview with current affairs magazine New Statesman he described the museum as "a world-class asset in waiting" which will be a "worthwhile investment not just for Dundee, but for Scottish tourism in general."
It is hoped the V&A will bring around 500,000 visitors to Dundee in its first month, with around 350,000 people a year after that.
He said: "V&A Dundee definitely aims to tap into a sense of local pride, and that local audience will stem from it as a result, but we've also got pout eye on huge international markets too.
"We will also target specific interest groups such as designers, schools, universities and colleges and those interested in a career in design."
Mr Long added he sees Dundee complementing, rather than the competing with Edinburgh and Glasgow as a tourist destination.
He said: "We want to add to them, not replace them. Dundee is reinventing itself as a destination through an exciting combination of culture and creativity. V&A Dundee is key to this aim.
"There are many reasons for visitors to come to Scotland.
"The Highland landscape and the romance associated with it is one. Edinburgh and Glasgow have got a great cultural offering, but now Dundee needs to step up too."
Mr Long added: "It has perhaps not been an obvious place to visit in the past, but I'm confident that the V&A will give it the power to become one soon."
The V&A will open to the public on September 15.
A two-day festival will take place to mark the occasions.
The 3D Festival will take place on September 14 and 15 will feature a concert in Slessor Gardens plus a host of free events.
Up to 20,000 people from Dundee, Scotland and around the world are expected to attend the free festival.