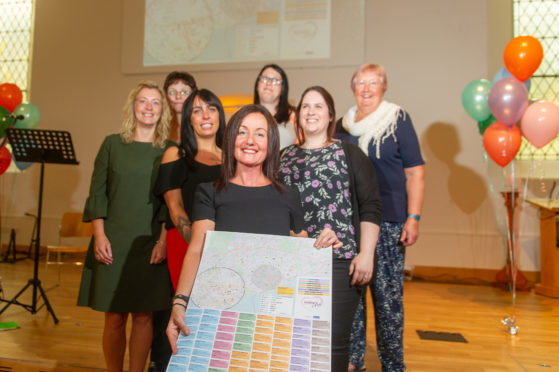 Charity workers in Dundee have raised money and created a new "Roadmap to Recovery" they hope will help addicts kick their habits.
Parish Nurses working from The Steeple Church in Dundee created the map, which will be available at clinics across the city, and raised funds to help meet printing costs.
The three nurses – Barbara MacFarlane, Rachel McReady and Kirsty Watt – provide a drop-in clinic at the church for people who are experiencing homelessness, poverty or other problems.
They decided to create the map as many of the people they helped with addition problems did not know where to turn for help – or were put off trying to quit because they did not think any help was available.
Rachel McReady spent more than a year creating the road map, which details what services are provided by different organisations – whether voluntary or statutory – across the city and how and where they can be accessed.
She came up with the idea for the roadmap after becoming one of the first 20 people selected for the Queen's Nursing Institution for Scotland's national leadership programme last year.
Ms McReady said: "The aim of working together was to create more bridges of hope and fewer barriers for some of the most vulnerable and marginalised people in our city. It is about making the recovery journey more connected for people while walking alongside them."
Ms MacFarlane said: "We have been doing parish nursing for people who are experiencing homelessness, financial problems or have problems with addiction for nine years.
"In that time we have been appalled at the number of drug deaths and the devastation it causes in the lives of individuals and their families.
"What we've heard repeatedly is that people don't think there is anything here to help them with their problems or recovery. It's hard to start recovery if there is no hope.
"People need help and support and every person needs a different kind of support, there is no one-size fits all solution."
A Drug Commission has been set up in Dundee in a bid to reduce the city's high rate of drug-releated deaths, which is currently the highest in Scotland.
Ms MacFarlane said: "The Drugs Commission is good but it will take a year before it does anything. In the meantime, a lot of people will have died."
As well as raising more than £2,000 to help pay for printing the map, the nurses also secured support from Dundee City Council for the project.
Ms MacFarlane said the scale of drug abuse in Dundee has not diminished over the past decade.
"Things are not getting any better," she said.
"We had a big problem about 18 months ago with people using legal highs. That's died down a bit now but there are still problems with people using a variety of drugs."
Around 100 representatives from drugs charities and other agencies attended the launch of the roadmap in the Steeple Churches on Tuesday.
Ms MacFarlane said: "There are a lot of people in Dundee with heart who want to help people and see the city improve."
Parish Nursing is charity that operates through churches and Christian organisations across the UK.