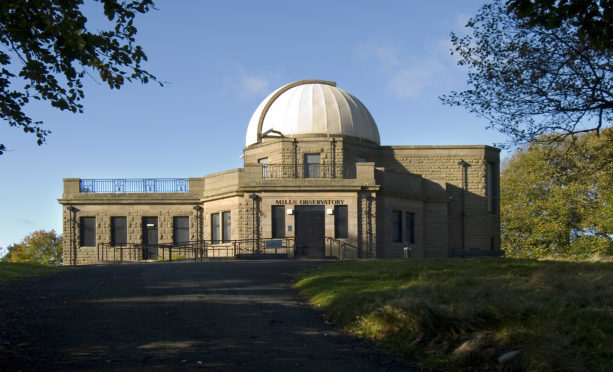 More than £100,000 is needed to repair the Mills Observatory dome before it can reopen for public use, it has been revealed.
The attraction, Britain's first-purpose built observatory, has been without its star feature since the shutter mechanism on the dome failed just after New Year.
The fault means visitors are not able to use the observatory's two main telescopes and have to make do with smaller telescopes positioned in the car park and balcony.
The Balgay Hill site, which opened in 1935, would usually attract thousands of visitors when darker autumn and winter nights allow keen astronomers the opportunity to scan the skies.
However, the cost and planning involved in fixing the dome, which cannot open due to the fault, mean there is "no prospect" of it being in action by October.
The Observatory's seven-metre dome is constructed out of paper mache and is supported by steel, meaning a specialist is required to carry out the work.
It is believed Historic Environment Scotland (HES) may be required to help source a specialist contractor, but the organisation says it has not yet been approached.
Leisure and Culture Dundee, who run the site, previously said they would have to operate a "reduced programme" if the dome was not fixed by October.
West End councillor Fraser Macpherson said the current telescopes available fall "far short" of the standard expected.
He said: "As the country's first purpose-built public observatory, it has a unique role and it is important that the dome is fully operational again as soon as possible.
"I had hoped that this might be possible for the winter season opening hours starting in October but if repairs cannot be completed by then it is important that there is still a programme of events run and I am assured this will be the case."
The councillor says he has also been advised that, though the total cost of repairing the dome is not yet clear, it will be in "excess of £100,000".
It is not known where the funds will be sourced from.
Dundee City Council, which owns the building, was asked to explain the authority's involvement in the repairs.
A spokesperson said: "We are looking into this."
Leisure and Culture Dundee did not respond to a request for comment.