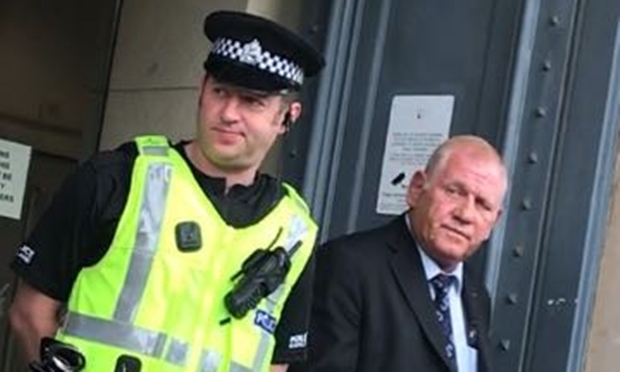 A fraudster who swindled tens of thousands of pounds from a Dundee veterans' charity has died.
James Reilly was jailed for 13 months in July 2017 after he admitted embezzling £60,000 from the Tayforth Veterans' Project in Dundee.
He was released early after serving just a third of his sentence, which had already been reduced from 15 months because of his early guilty plea.
Emergency services were called to Reilly's house in Main Street, Balmullo, on Sunday night but he was declared dead a short time later.
Police say the death is currently being treated as "unexplained but not suspicious".
The money Reilly took was supposed to help injured military personnel who had fallen on hard times but instead, he used it to make improvements to his £350,000 home.
He transferred the cash from Tayforth's bank accounts to his personal account under the heading of "loan repayment" or salary.
Reilly had made out that he was once an elite commando and was frequently seen sporting a Royal Marines green beret, despite never doing the training and serving as a junior stoker.
After the trial, furious veterans who had worked to expose Reilly's crimes called on the Crown Office to recover the stolen funds.
Former Scots Guards NCO Les Mason, who helped bring the conman to justice, said: "He owned up to stealing £60,000 but we believe he stole closer to £200,000 from the charity.
"He's now going to his grave without paying a penny back.
"Tragically, as has been well publicised recently, increasing numbers of soldiers are taking their lives and the money Reilly stole could have been used to provide more support to those veterans suffering from PTSD."
A spokesperson for Police Scotland said: "Police in Fife were called to an address in the Main Street area of Balmullo on Sunday 19 August following a concern for a person.
"Emergency services attended and a 67-year-old man was sadly pronounced dead by the Scottish Ambulance Service.
"The death is currently being treated as unexplained but not suspicious and a report will be submitted to the Procurator Fiscal."