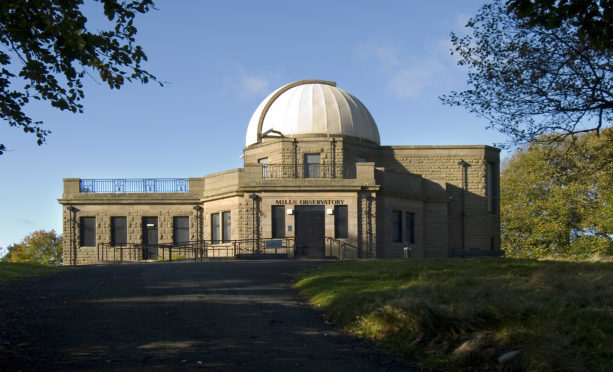 Progress has been made towards repairing Britain's first purpose-built observatory in Dundee.
Mills Observatory, which sits on Balgay Hill, has been without its star feature since the shutter mechanism on the paper mache dome failed just after New Year.
It means the attraction's two large telescopes inside have not been available for public use but the dome is to be thoroughly assessed by engineers next month.
An astronomical bill of around £100,000 has been estimated to repair the observatory, which is owned by the city council but run by Leisure and Culture Dundee.
Funding from the council is yet to be sourced but it is believed this will soon be identified.
West End councillor Fraser Macpherson said he was happy with the progress being made.
He said: "The issue is very much about timescales.
"The good thing is that it is definitely going to be repaired so there is a way forward. I've been seeking to find out how quickly that can happen but that isn't clear yet.
"There will still be a programme of events. Many of the activities will be going ahead as usual."
The fault means the dome cannot open, leaving the main telescope, a 16-inch Dobsonian reflector, idle.
In an effort to mitigate the problem, smaller telescopes have been positioned in the car park and balcony for keen night-gazers.
Billy Gartley, head of Cultural Services at Leisure and Culture Dundee said alternative methods of enjoying the observatory are being identified.
He said: "It was helpful to receive some advice from the Astronomical Society regarding our plans to move telescopes onto the viewing balcony, and it has indicated that some are either too big or too fragile to be moved.
"This will mean that it may be smaller telescopes that are in use, and we may also look at how we use either the indoor planetarium or viewing from the balcony – depending on weather conditions.
"While waiting the detailed report on the property, we will ensure that our plans are in place for the 1st October, and ensure regular updates on programme and property progress by the City Council via the website."
Having opened in 1935, the site has become increasingly popular over the years and usually attracts thousands of visitors when darker autumn and winter nights arrive.