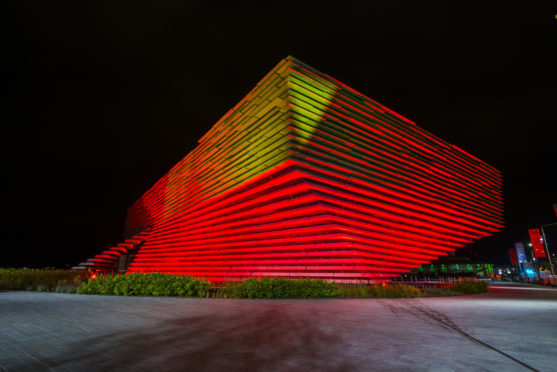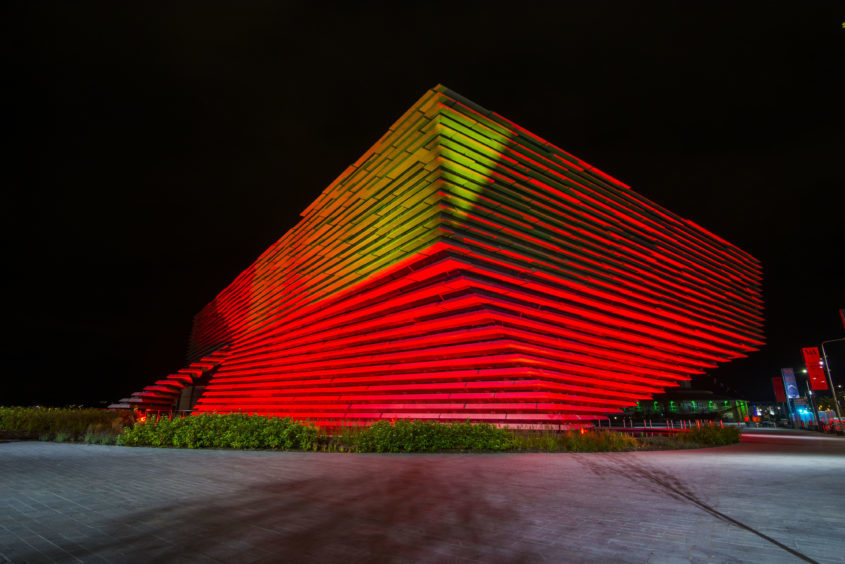 The 3D Festival celebrating the opening of V&A Dundee will begin with a unique interactive project combing sound, light and graphics.
Dundee digital creatives Biome Collective and Agency of None have been working to produce Hello World, a feast of sight and sound that will be among the highlights of the opening 3D Festival event at Slessor Gardens on Friday.
Biome Collective and Agency of None have worked together to design a "visual language" that will be used across the event, delivered by award-winning lighting company 21CC.
Biome Collective will present a dynamic performance of light and sound that will connect the audience with Kengo Kuma's award-winning building, while Agency of None has created an immersive graphic experience, taking inspiration from the surroundings of the building in Dundee and Japanese urban environments such as Shinjuku in Tokyo.
Lyall Bruce and Ryan McLeod of Agency of None said it was important for the world to feel a connection to V&A Dundee and the city itself.
Lyall added: "We have designed an experience to take the audience on a journey that evolves throughout the night, this is a great opportunity to showcase design in wider audience.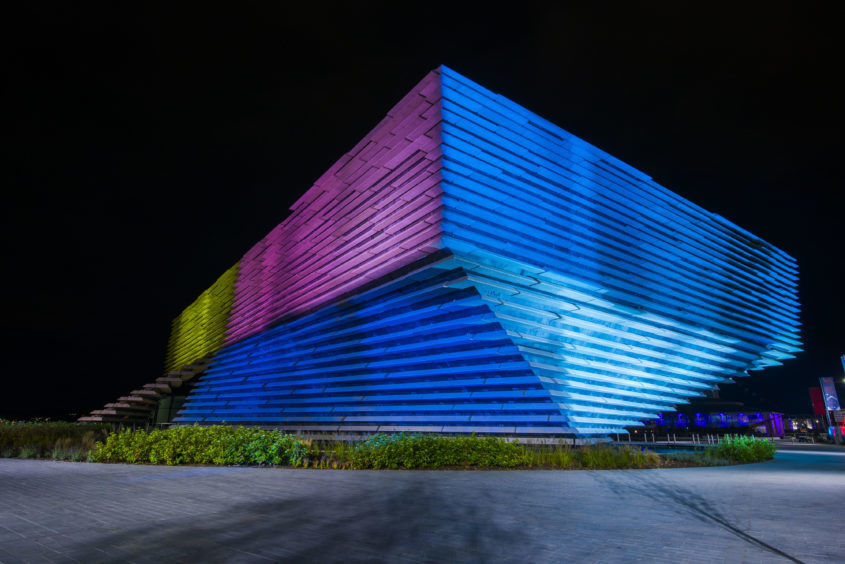 "We want see Dundee become an internationally recognised centre for all types of design."
Biome Collective founders Tom deMajo and Malath Abbas said their vision was to create a connection between the people and the building.
Tom said: "It is important to celebrate and welcome positive changes in the cultural landscape, and V&A Dundee is part of that change for Dundee.
"This is a great moment for the people of Dundee to finally welcome this new member of the community. We hope that Hello World will define a point in time for them to meet."
The 3D Festival is a sold-out ticketed event and those attending are advised to take note of road restrictions in the area, allowing plenty of time for travel.
Gates open at 5.30pm and highlights from the show, featuring headliners Primal Scream, will be broadcast by BBC 2 Scotland from 9pm.
Scottish singer Tallia Storm also revealed on Twitter on Thursday that she will be performing at the festival.
I'm back baby 👸🏼⚡️ So excited to be here in Dundee to perform at the opening of the @VADundee 🔥🔥🔥👏🏻👏🏻💁🏼‍♀️💁🏼‍♀️ Makeup by my queen @samhendrymua @HairGlasgow 💥💥 @Topshop pic.twitter.com/oNky3P7m1q

— TALLIA STORM (@Tallia_Storm) September 13, 2018
Designed by Kengo Kuma as a new 'living room for the city', V&A Dundee opens to the public on Saturday September 15.
Access to the museum on Saturday 15 and Sunday 16 September has been ticketed and is also fully booked.
The museum is open from Monday 17 September, no ticket required.