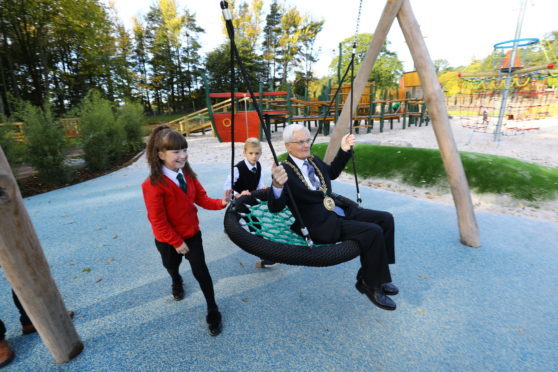 A popular Dundee play park has been given a major face lift worth almost half a million pounds.
Camperdown Country Park's new and improved play area was officially opened on Friday after months of work.
The council made the investment after revealing the play facilities remain the most popular attraction in the park — despite bears and lemurs in the nearby Camperdown Wildlife Centre also pulling in the crowds.
The upgrade will include the return of a large, boat-themed climbing frame reminiscent of the old wooden play-ships 'the Galleons' which were removed in 2001.
Totalling more than £423,000, the work has also seen the former boating ponds filled in as well as the introduction of inclusive play equipment and a wheelchair boardwalk.
Children from Camperdown and St Clement's primaries joined Lord Provost Ian Borthwick  to celebrate the opening.
He said: "This new play area is a superb addition to one of our most popular local attractions.
"I am pleased that it reflects the nautical tradition of Camperdown and also the popular play facilities of the past."
Neighbourhood Services Convener Kevin Cordell added: "Play is a key part of every child's development and social life and this latest round of work highlights our commitment to supporting and enhancing play opportunities in Dundee."
The general play equipment cost around £100,000, while the building of the ship came in at just under £150,000.
The council's own own neighbourhood services department carried out the civil and landscaping works with the park resurfaced using sand, bark and grass.
The older play area featured wooden ships which recreated the historic Battle of Camperdown, so called after famous Dundee-born Naval leader 1st Viscount Adam Duncan of Camperdown.
The council had originally identified the need for upgrades to the play area in the park over six years ago.
Ongoing development work in the wider park has been carried out ever since.
As well as the adjacent wildlife park, the grounds also includes the 18-hole Camperdown Golf Course.