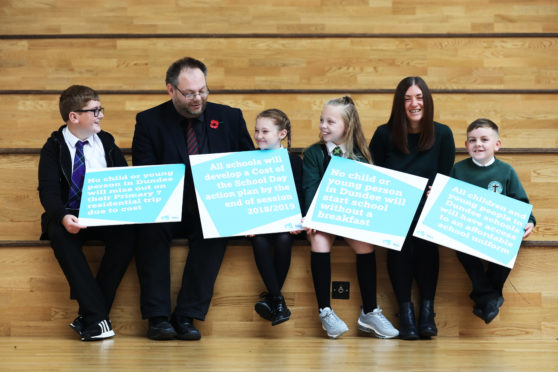 Dundee City Council has pledged to help the most vulnerable families cope with the cost of sending their children to school.
It comes after a study, carried out earlier this year by the Child Poverty Action Group (CPAG), laid bare a harrowing reality of pupils going to to school hungry and parents unable to meet uniform and travel costs.
Following the report's release in June, the local authority joined forces with CPAG and the EIS teaching union to come up with solutions.
The council has now promised breakfasts will be provided for every child, families will get help towards P7 residential trips and all youngsters will be able to access affordable uniforms.
Dundee's children and families convener Stewart Hunter said it was not yet known where the money would come from, but that the council would address this in due course.
He added: "What we are doing now is making the pledge, which will be followed by another report later in the school year.
"This will address how the financing and the delivery will happen."
"The (initial) report was called for by the Fairness Commission, which is a constant influence on the way that the council goes about its business."
Pupils from Longhaugh and St Francis primaries and Quarry View nursery helped promote the pledges at the recently-opened North East Campus, along with representatives from CPAG and Dundee City Council.
Sara Spencer, Cost of the School Day project manager at CPAG, said: "We are delighted that Dundee City Council has responded so swiftly to the challenges described by children and families in the Cost of the School Day Dundee report and set out such a clear statement of intent.
"Meaningful action from the council in these different areas will mean that all children in Dundee make the most of everything school has to offer them without financial barriers standing in their way."
Neil Lowden, head teacher at St Francis Primary School, also welcomed the pledges, adding: "I'm sure that all young people will benefit from this.
"The main point is that no young person growing up in Dundee should miss out on opportunities that are available to others."
The four pledges state that:
No child or young person in Dundee will start school without a breakfast.
No child in Dundee will miss out on their Primary 7 residential trip due to cost.
All schools will develop a cost of the school day action plan by the end of session 2018-2019
All children and young people in Dundee schools will have access to an affordable school uniform