There were tense exchanges in the Scottish Parliament as MSPs grilled Scottish business minister Jamie Hepburn on the demise of a Dundee construction firm.
North East Labour MSP Jenny Marra was first to question the SNP politician during topical questions in Holyrood on Tuesday afternoon after McGill & Co entered administration last Friday with the immediate loss of 374 jobs.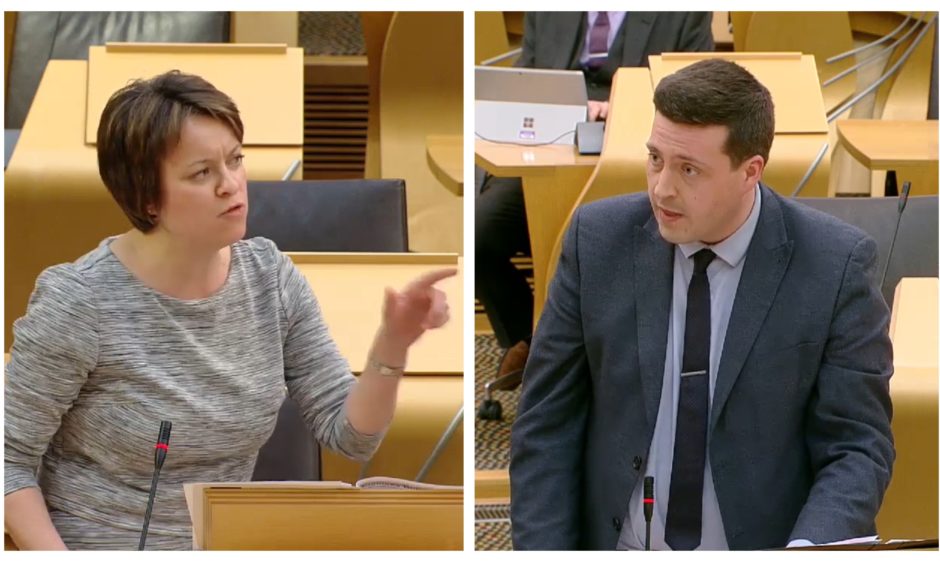 It comes as The Courier reveals that the company was denied a loan and had a bank overdraft suspended before the firm went into administration.
A document, which a senior source at McGill confirmed was accurate, has been seen by several staff and confirms Scottish Enterprise (SE) refused to help – with the loan said to have been refused a week before the firm collapsed.
McGill: Lifeline loan to keep Dundee building firm afloat was denied week before collapse
Speaking in Holyrood yesterday, Ms Marra accused Mr Hepburn of giving her "the most inadequate answer I've ever heard in this parliament" in response to her first question, when she asked what action the Scottish Government is taking to assist McGill staff.
She added: "McGill is a company with a £40 million order book. It is profitable. They had a cash flow situation. They went to the government on November 9 – the same week that we heard Michelin was closing – and asked for a loan.
"Twelve weeks later, last Wednesday, twelve weeks later, Scottish Enterprise went back to McGill and said no to that £2 million loan to cover cash flow.
"When Prestwick Airport received £46 million of Scottish Government loans with no indication of when they'll be paid back, when BiFab can secure £35 million, Ferguson Marine £45 (million). Why couldn't McGill get just £2 million to save 450 jobs when Dundee is reeling from the Michelin and HMRC closures?
"Can the minister tell me who made the decision not to give McGill the loan and why, given the scale of job losses in Dundee, did he not instruct Scottish Enterprise to make that loan available and save these jobs?"
Cumbernauld and Kilsyth MSP Mr Hepburn responded: "I'm sorry Ms Marra feels the answer was inadequate, let me say she may have thought she had it on good authority but my answer is entirely accurate.
"The issue of course is McGill had no historic link with Scottish Enterprise, it is not an account-managed company by Scottish Enterprise. The first time it approached Scottish Enterprise was to say it was in financial difficulty.
"That was the first juncture it had any interaction. At that stage Scottish Enterprise offered to support the company through funding KPMG to review the cash position and evaluate options asking for a business plan.
"On December 18 2018 Scottish Enterprise emphasised the need for a revised business and turnaround plan again at that juncture and unfortunately the revised business plan did not come until some time after we were first approached and, very unfortunately, not within the time for it to be given proper consideration through due diligence.
"I would regret though if we were to turn this issue into some form of political knockabout. Jenny Marra at the end said that her primary thoughts were with the workforce at this time.
"I would hope that would be the case for anyone in this chamber, that is exactly where my thoughts are, that is exactly where my priority is."
He added: "The task now for us all is to unite, support that workforce to get back into employment, not to engage in some form of political knockabout on this most important of issues."
For more on this story, click here.