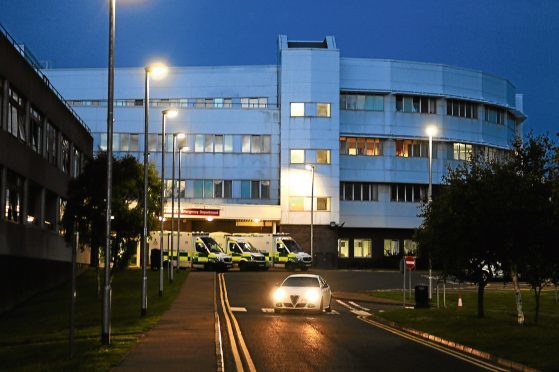 A Ninewells Hospital doctor who admitted hitting a man with a shepherd's crook has been suspended from practising medicine for eight weeks.
It comes after Cathal Steele pleaded guilty of assaulting two people in Dundee between September 4 and January 29 while working as a consultant clinical immunologist with NHS Tayside.
He admitted striking one man on the head and body and striking him with a shepherd's crook.
Dr Steele also admitted slapping another man repeatedly on the face and head.
He was admonished and the case dismissed in May last year but the Medical Practitioners Tribunal Service, part of the General Medical Council, has now decided his fitness to practice had been impaired.
However, it said the offence "falls short of being fundamentally incompatible with continued medical registration" and so he will be allowed to return to work once his suspension is served.
Dr Steele's hearing concluded on February 27 but the tribunal's judgement has only just been published.
It stated the assaults were out of character for Dr Steele, who is originally from Northern Ireland, and had occurred outside the workplace.
But Dr Steele, who referred himself to the tribunal, admitted members of the public would be "horrified" to learn of the incident.
The panel decided that putting conditions on Dr Steele's registration would not be adequate, given the severity of his offence.Instead, they opted to suspend him for eight weeks.
The judgement, written by panel chairman Neil Dalton, said there was no evidence patients would be put at risk if Dr Steele continues to practise as a doctor.
But he added: "Dr Steele's conduct represented a departure from proper standards of conduct and behaviour, and went directly to the issue of eroding public confidence in the profession.
"Against that background, the tribunal considered that a period of suspension would have a deterrent effect and could be used to send out a signal to Dr Steele, the profession, and the public about what is regarded as behaviour unbefitting a registered doctor.
"A period of suspension is appropriate in this case because it has involved conduct leading to a conviction on Dr Steele's part that is serious but falls short of being fundamentally incompatible with continued medical registration."
An NHS Tayside spokeswoman said the health board could not comment on matters relating to individual members of staff.