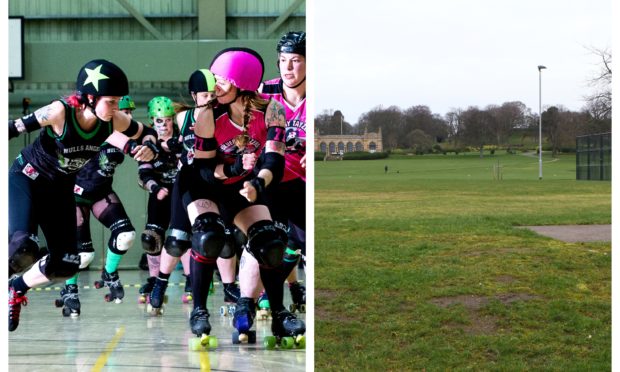 More than 90% of Dundee residents consulted so far are keen to see a free roller skating track built in Baxter Park, campaigners have said.
The flat surface skate track is being proposed for the southern end of the popular Stobswell park and an extensive public consultation on the plan is now close to completion.
Professional ice hockey team the Dundee Stars have given their backing to the skate track and voiced hope it will help to produce some players for their junior set-up.
It was given planning permission in principle by Dundee City Council Neighbourhood Services Committee in 2016 but much of the time since then has been spent gathering opinions from local schools.
The track is expected to cost several hundred thousand pounds, with a GoFundMe page launched this week in a bid to raise money for detailed plans to be produced.
Around £75,000 has already been quoted for the surface concrete alone.
92% of all 300 people canvassed at events such as Stobfest Gala Day and parents' evenings at Clepington, Glebelands and Rosebank primary schools have been supportive of the scheme.
Nichola Fraser, from the Baxter Park Skate Track Group said the community still has a long way to go before the idea can become a reality.
The 48-year-old said: "Consultation has been progressing well with local groups, primary schools and the high school engaging with us.
"The majority of responses have been very positive.
"Just like the tennis courts and MUGA (Multi-Use Games Area) we want the Skate Track to be free to use and open to all.
"One priority is that it should be accessible to wheelchair sports.
"The type of surface would need to accommodate this as well as quad skates for roller derby and recreational skating; inline skating; and children learning to ride their bike or scooter before progressing on to skate parks such as Dudhope."
The idea was first mooted by Dundee Roller Derby three years ago and has gained support since then from the Stobswell Forum and Friends of Baxter Park.
The exact location would likely be on the site of the old bowling green next to the MUGA and the tennis courts.
Ms Fraser added: "Funding has also been obtained by Friends of Baxter Park for outdoor gym equipment.
"This area of the park would therefore continue to form a space for a range of sporting activities. We hope to start applying for planning permission and funding soon."