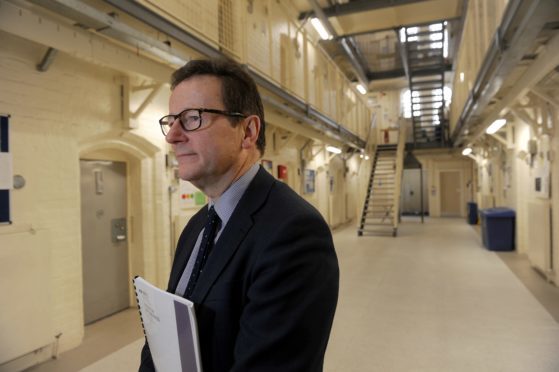 The man behind the inquiry into mental health services in NHS Tayside has laid down the gauntlet for the health board to take immediate action.
David Strang was speaking at the latest NHS Tayside board meeting on Thursday, outlining the findings from the interim report released last month.
One board member even said she would struggle to sleep at night if action was not taken soon.
Mr Strang's damning report outlined a number of failings at mental health services in Tayside, including GP referrals being ignored and an "opaque" management structure.
Detailing these to the board, Mr Strang pointed out there has been no tangible action, despite commissioning the inquiry 13 months ago.
Labelling himself a "constructive friend", he said: "There has been a lot of activity in that time but nothing has been actually done to tackle the issues.
"Thirteen months on from when the inquiry has been called all the policies are still off in the future.
"What will happen for the people who need help between now and then? You knew there was a crisis when you commissioned the inquiry."
Mr Strang outlined three key areas he said needed action: a clearer managerial structure, ensuring GP referrals are acted upon and not turning away people with substance abuse issues.
His lamentation stirred some board members to all for immediate action.
Non-executive board member Pat Kilpatrick said: "We need some reassurances that there is some action taking place.
"We need to know that someone won't be turned away if they have substance abuse issues, for example.
"I don't know if I'll be able to sleep at night if I did not, as a member of this board, leave here without raising this."
Outgoing NHS chairman John Brown took that call as a chance to "challenge" the integrated joint boards to "take that on board".
This was met with a silence in the room, but Keith Russell, NHS Tayside associate nurse director for mental health and learning disabilities, said: "I would ask the board to not see mental health services just through David's report.
"There is a lot of good happening as well."
Mr Brown said: "The IJBs need to look at David Strang's report and take it on board.
"Mental health is going to have to be pushed up the agenda."
Mr Brown announced his stepping down at the board meeting, saying he will leave on June 30. Mr Brown took on the role 15-months ago amid financial chaos within NHS Tayside. He said his goal was to "steady the ship".
Vice-chairwoman Lorna Birse-Stewart will take up the interim post.