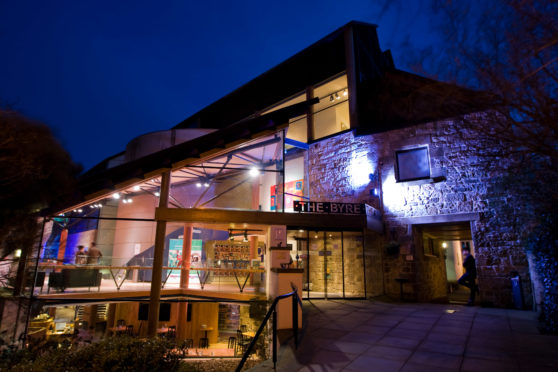 A "volatile" man caused a fracas on a busy St Andrews street after accosting young theatre-goers and demanding their signature.
Kevin Reid terrified a teenage couple by making the bizarre demand, threatening them and chasing after their car as they drove away in panic.
The youngsters, aged 18 and 19, were on their way  to the Byre Theatre but abandoned their plans after Reid said he would "get" them outside the venue and told the boyfriend he would  "knock his head clean off".
When confronted by police, the 37-year-old admitted he was drunk and said he didn't know why he'd behaved this way.
Fiscal depute Kirsten Letford told Dundee Sheriff Court: "As they (the couple) were walking to the theatre they saw the accused, who seemed to be talking to himself.
"He started to engage them in conversation.
"Initially this was fine, however his demeanour changed and he became quite volatile and aggressive. He started shouting and swearing.
"The accused approached Mr Allan directly demanded a signature.
"Mr Allan was quite perplexed and said he wasn't getting his signature.
"The accused said he would "knock his head clean off".
"The couple became quite frightened, so rather than going towards the theatre they started to retract towards their vehicle."
As they got into their car and pulled away the accused re-appeared in front of the vehicle continued to shout and swear, the court was told.
Ms Letford added: "He was punching and kicking the vehicle, causing a dent in the bonnet."
The court was told that Reid, of Abbey Street, St Andrews, was now abstaining from alcohol.
Sentencing was deferred until August 9.