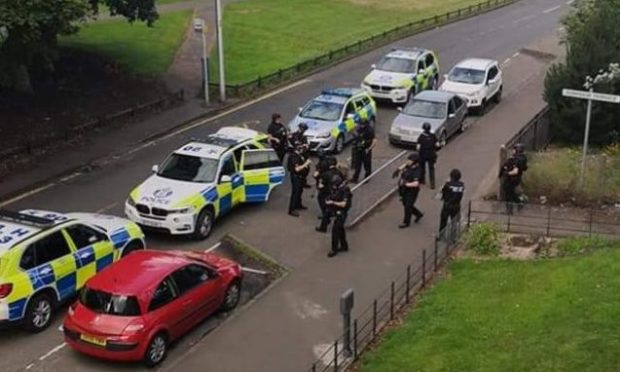 Confusion reigns after 12 armed police officers were spotted seemingly trying to flush a man out of the site of an old Dundee school.
Residents in the South Road area of the city, near the Tesco Extra, said they had seen officers with guns and shields in the field where Charleston Primary School once stood.
They said that the policemen stood in a line and then moved forward calling out that they were armed and for anyone there to come out.
The incident was first spotted by locals at 8.30am on Sunday and the Police Scotland officers were said to have been in the Charleston area for about an hour.
An area of Dunholm Road and part of South Road were cordoned off by the police for part of the morning too.
The police later confirmed that armed officers had been sent to the area at 6.30am in relation to ongoing incident.
It added that no weapons had been discharged and no-one injured. Enquiries are ongoing.
Rumour is rife that an armed man was hiding from the police following an unknown incident.
An empty marked police car was sparked on nearby Dunholm Road for most of the day in relation to the incident.
In a separate incident Police Scotland cordoned off part of East Haddon Road in the city overnight.
The force said it was dealing with an isolated incident and that there was no danger the public.
Door to door enquiries are to take place over the coming days.