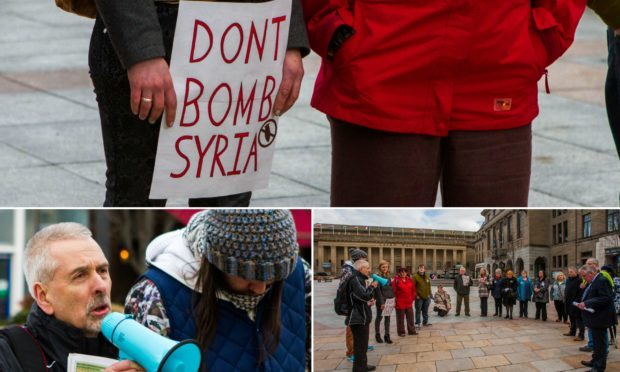 A film detailing horrific accounts of life in the Syrian Civil War is to be shown in Dundee later this month.
The Children's War Museum (CWM) and Dundee Central Mosque Community Centre have worked together to show the documentary Silent War.
The Manon Loizeau film focuses on accounts from women who claim to have been raped while in detention in Syria.
The film claims that rape and sexual assault has been used as a weapon by the Syrian army, saying the army has "systematically used it against women in its torture prisons and elsewhere".
The CWM's co-founder Brian Delvin saw the film on news channel Al Jazeera last year and was moved by the accounts.
Syria has been embroiled in a complex civil war since 2011. Areas of major cities have been left in rubble.
Mr Devlin said: "Tens of thousands of men, women and children have been arrested and tortured by Assad's security forces since March 2011.
"Silent War is about the women detainees. The effect of detention on the women and their families has been quite devastating.
"A lot of these women are still in Syria so it's an ongoing issue for some of them. What the film does is give them a voice.
"I hope that refugee families from Syria will come to see the film, although I appreciate it may be difficult for some of them.
"But it would be good to meet some of them and if they want to share their experiences with us, they can."
Mr Delvin hopes to bring more documentaries of a similar nature to the City of Discovery in the coming month.
One upcoming film is Disappeared, which looks at the lives of detainees and former security service officers in a bid to highlight how torture is used in Assad's regime.
Another documentary to be screened will be Invisible War, which follows investigators of international wars crimes try to collect evidence against the Assad regime and follows a legal process being pursued through European courts on behalf of detainees.
The CWM have also been offered an exhibition space at Holyrood in December, showing photographs from Operation Caesar, a secret German mission during the Second World War to supply Japan with technology to fuel their war machine.
The CWM does not have a permanent home yet, but Mr Delvin described that as the "ultimate goal" for the project.
"Until then, we hope to build links with the community to find places that will let us show these films and photos," he added.
The Silent War screening, which is free for everyone to attend, will take place at the Gurthrie Street community centre on July 27 at 2pm.