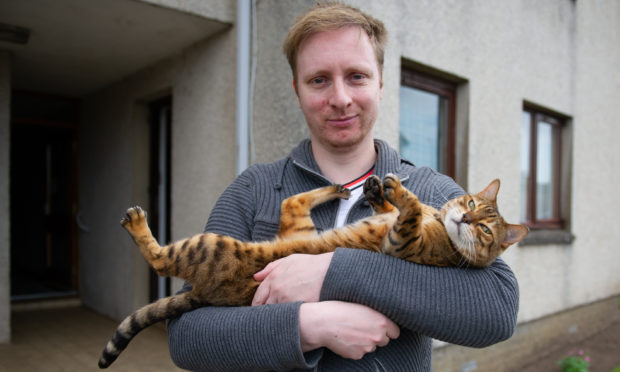 A cat lover has been prevented from moving into a luxury Tayside residential area after a letting agent claimed animals are banned by law from entering the former fishing port.
Paul Forrest, 30, was a whisker away from landing one of City Quay's popular waterfront flats on Marine Parade when a letting agent told him he could not bring his beloved 10-year-old Bengal named Riley.
Belvoir, which is itself based at City Quay, state that 'dock laws' designate the plush riverside zone — formerly a key fishing port — as an animal quarantine area.
Formerly part of the Port of Dundee, City Quay was sold off at the turn of the century to private developers who built hundreds of flats.
Belvoir say they must advise all prospective tenants that the byelaw means animals are prohibited from entering the waterfront sector.
A spokesperson for Dundee City Council said that it is not responsible for dock laws while former owners of the land Forth Ports say any byelaws would be implemented at the "discretion" of the current landlords.
Mystery surrounds the claim and it is unclear whether the byelaw is, in fact, in place.
Paul, who currently lives in Montrose, said he was left scratching his head after being told the popular area was a no-go zone for him and his four-legged friend.
He said: "I've been looking to move in to that area for a while and saw a few were up for let so I called the agency to find out more.
"We had a good conversation and he said I sounded perfect for one of the flats.
"I was excited to come and have a look but then he asked me if I had any pets.
"When I told him that I have a cat, he sounded genuinely deflated and taken aback.
"He replied 'I'm sorry, it's a rule we have to abide by' and pointed me in the direction of some other flats just outside the area.
"He said he was aware of how ludicrous it sounded but said there's nothing they can do.
"I'm kind of glad he was so specific about it as they might have just said the landlord didn't want animals in the property and I'd never have known.
"It was just amusing more than anything. It's like one of those bizarre laws you hear about such as the one where apparently you can shoot a Scot with a bow and arrow in parts of England."
The area features a number of dog waste bins as well as large signs reminding pet owners to pick up after their dog.
A letting agent at Belvoir vehemently claimed that they must legally abide by the rule.
She added: "We know it's strange but we have no choice."
Chairman of the City Quay Community Council Bill Newcombe said he had never heard of such restrictions.
He added: "I've never heard about this and I've lived here since the first flats were built.
"It wasn't in the deeds to our property when we bought it in 2004 which surely it should have been.
"We see dogs around here all the time so I would never have thought this was the case."
A spokesperson for Forth Ports said: "Much of the waterfront was previously part of the Port of Dundee.
"While there are port regulations, these were intended to cover an active port. We would regard this as a matter for the discretion of the landlord."