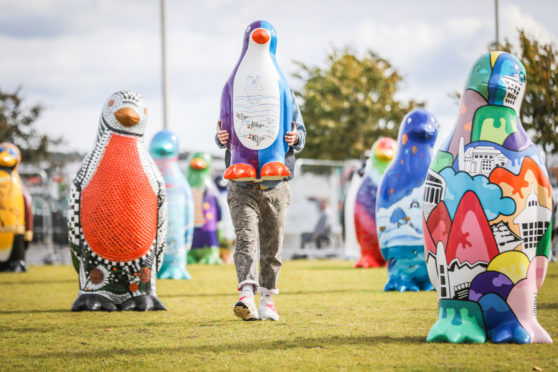 People across Tayside are being invited on a unique "cultural crawl" to raise funds for cancer charity Maggie's Dundee this week.
Sponsored by Brodies LLP, the walk will give participants the chance to see the city in a new way on August 30.
As part of the night-time event they will also get to see the last penguin from Maggie's Penguin Parade being decorated by artists Joanne McFadyen and Suzanne Scott.
Lesley Howells, centre dead for Maggie's Dundee, will launch the evening from a start-point at the V&A Museum, where the penguin will be painted.
Ms Howells said: "Our new Maggie's Culture Crawl Dundee should prove to be a very special evening.
"Having the last of the Maggie's penguins professionally painted live at our start point for all to see will make it all-the-more-special as our Penguin Parade held a place in the hearts of people in Tayside and the beautifully designed penguin will be going home with the highest fundraiser walking in our Culture Crawl.
"As a charity, Maggie's relies almost entirely on voluntary donations to support people to live with cancer. I really hope the local community gets behind this event to help us support as many people living with cancer, as well as their family and friends, as possible across Dundee and surrounding area."
The Culture Crawl route will see walkers snake six-miles through the city with exclusive night-time access to some of Dundee's new and old cultural icons including the Transport Museum, the McManus Art Gallery, Verdant Works, the DCA, the Church of Logie and St John before finishing at Maggie's Dundee at Ninewells Hospital.
Walkers will also be also treated to a barbecue courtesy of RRT and entertainment from the Juicy T's, not to mention pop-up light, art and photography exhibitions from artist, Alison Chandler, and photographer, Zoe Law.
Anyone who wants to sign up for the event can do so by visiting www.maggiescentres.org/culturecrawl
Maggie's has a network of centres across the UK and 14 Culture Crawls will be happening up and down the country including one in Glasgow on September 20 and Edinburgh on  October 4, with the aim to raise £500,000 to help support people living with cancer.