The Scottish Government has released data pinpointing the areas considered most vulnerable when Britain leaves the EU.
The study analyses data on eight variables – access to services, Brexit vulnerable workforce, agricultural payments, EC funding, income, EU migration, change in population and share of working age population – to create a Scottish vulnerability index containing 'datazones' of one or more neighbouring postcodes.
To find out how your area is affected, click below.
Perthshire
The study states Courier Country's most vulnerable datazone is the PH13 9 postcode in Coupar Angus, which is 20th on the national index.
Coupar Angus, in the heart of the Strathmore Valley, attracts a sizeable EU contingent every summer to pick fruit. This workforce will be vulnerable when we leave the EU, according to the study.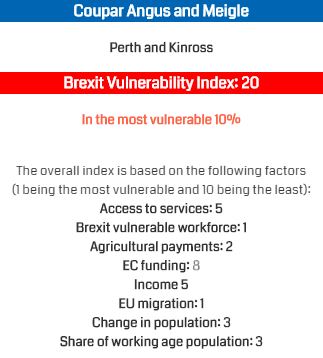 Dundee
The next most vulnerable area in Courier Country is the DD3 6 and DD3 7 postcodes in Dundee, which is ranked 23rd in Scotland.
This datazone covers the Law, northern end of Hilltown and Coldside. The area is considered vulnerable due to issues over income, EU migration and population changes.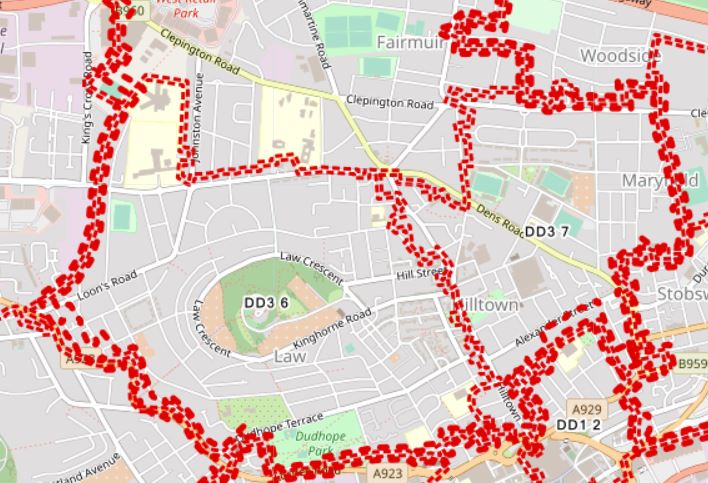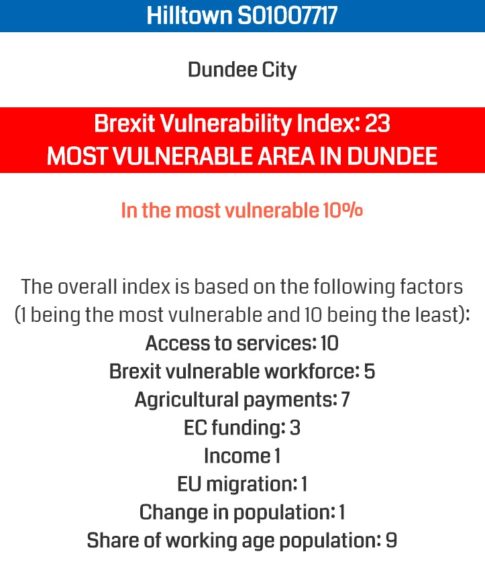 Fife
Fife's vulnerable postcodes are KY8 5 and KY8 6, ranked 30th in Scotland.
The area covers Kennoway, Upper Largo and Lundin Links, which stands to be hit by changes in access to services, EU migration, the workforce and agricultural payments.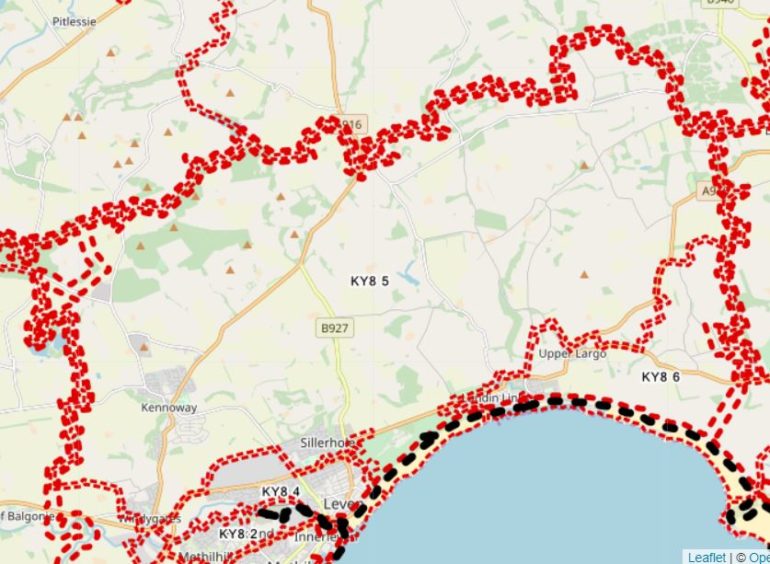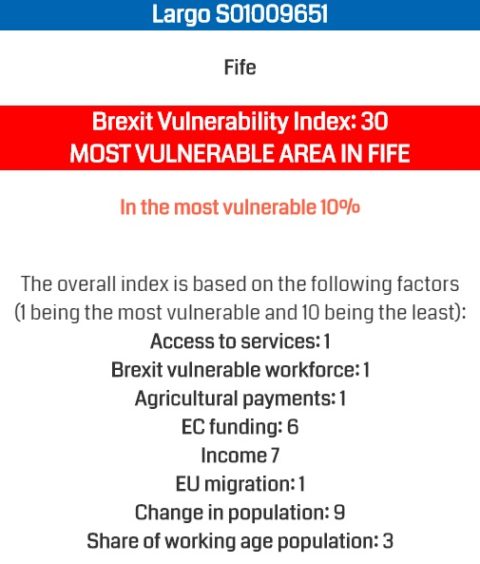 Angus
Angus's most vulnerable postcodes, according to the study, are DD10 8 and DD0 9. This is considered Scotland's 122nd most-vulnerable datazone.
The area encompasses, but does not include, Montrose. Access to services, workforce, EU migration and agricultural payments cause the Scottish Government most concerns.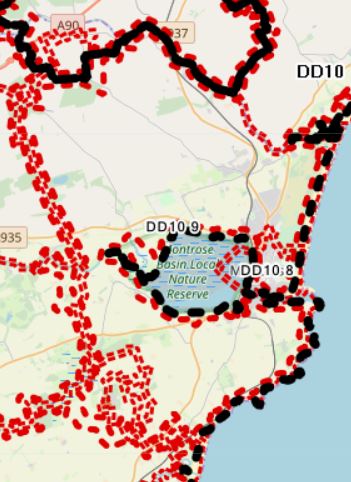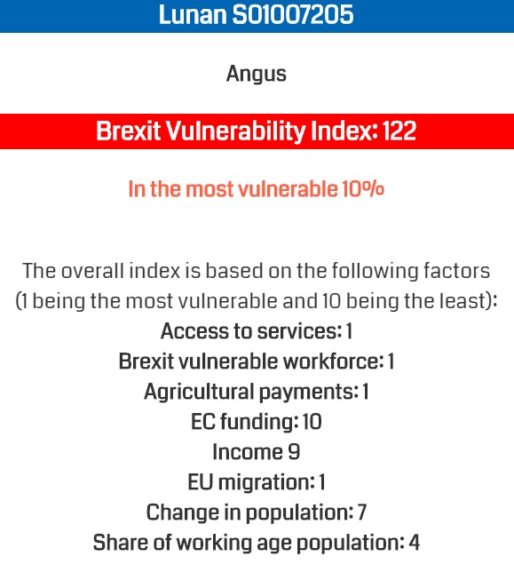 Scotland
The least vulnerable area in the whole of Scotland is the KY11 8 postcode, Dunfermline Duloch North and Lynebank, which is 6,976 in the list.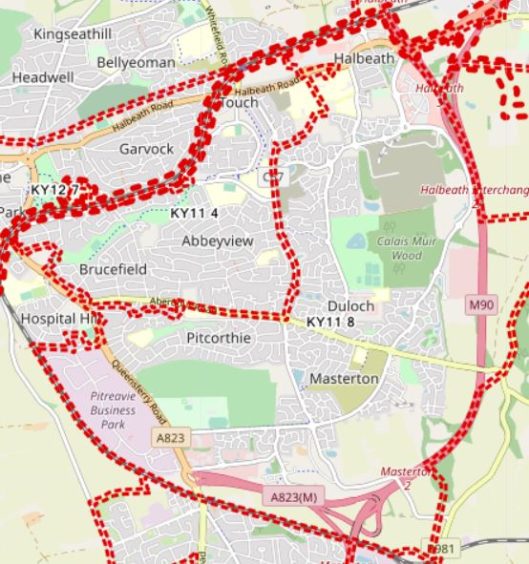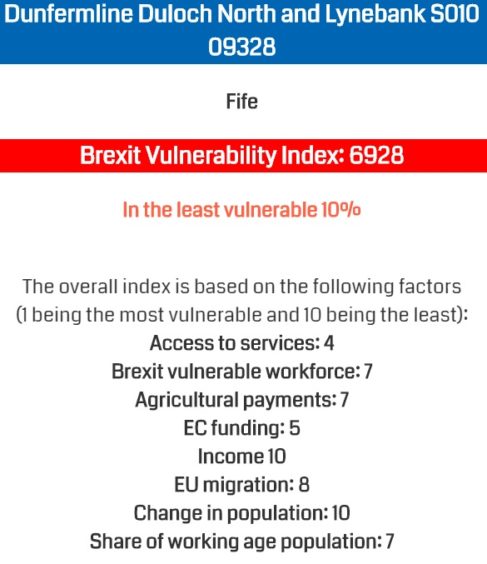 Gorbals and Hutchesontown in Glasgow is considered the most vulnerable area of Scotland when we leave the EU.
A Scottish Government statement on the findings said: "The risks presented by Brexit are anticipated to have significant social and economic consequences for all areas of Scotland.
"Many of the areas most vulnerable to Brexit are in rural locations, in particular on
the Scottish islands.
"Around half of communities in Shetland Islands, Na hEileanan Siar, Argyle & Bute and Dumfries and Galloway are amongst the most vulnerable communities in Scotland (20% most vulnerable datazones).
"On Na h-Eileanan Siar there are nearly 14,000 people in the most vulnerable
datazones in Scotland. Likewise, on the Shetland Islands there are more than
11,000 people in the most vulnerable datazones.
"A smaller proportion of areas within cities and large urban areas are found to be
in the most vulnerable 20% of datazones in Scotland.
"However, because the urban population is substantially larger than the rural one, there are still high numbers of people in urban and suburban areas who live in such locations.
"For example, there are 186,000 people in Glasgow alone and nearly 170,000 people
in Fife, North and South Lanarkshire and Edinburgh combined who are living
within the most vulnerable datazones in Scotland."