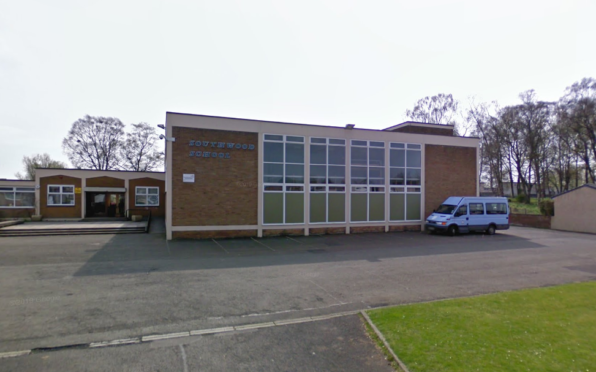 A Fife parent council has apologised after pupils as young as five were subjected to violent video images projected at a school disco.
A number of children were left traumatised after shocking footage of a silhouette of a hanging body and another being stabbed were shown at Southwood Primary School in Glenrothes.
The Halloween disco, organised for P1 to P3 youngsters aged between five and eight, took place on Wednesday evening, organised by the school's parent council.
Angry parents took to social media to share their horror.
On person said: "I'm honestly speechless.
"It was a whole segment showing him putting up a rope, climbing onto a chair and then vigorously shaking until stillness.
"Then to follow was a video in the same style of someone being stabbed with a knife then with scissors."
Parent Alex Connelly said she had been left horrified by the clip but more so by her child re-enacting what they had seen by'stabbing' their own shadow on the wall the next morning.
Stephen Gell added: " I personally do not blame the parent council. They give up their time for free to bring these kinds of events for our kids.
"The school however still holds a duty of care toward the children attending and  failed completely in that regard.
"It was irresponsible at best not to have checked what was going to be displayed prior to the event.
"My daughter spent  several points throughout the night, crying because of what she witnessed."
A children's entertainer had agreed to show singing lantern graphics but the DJ played the wrong video.
An apology issued by Southwood Primary School Parent Council said: "With regards to the P1 to P3 Halloween disco, as some of you are aware, an inappropriate video was shown for a short period of time.
"The DJ made a mistake by showing the wrong video.
"We had agreed on singing lanterns for the clip and not what was shown.
"He has wholeheartedly apologised for the error as do the parent council."
Southwood Primary School head teacher, Victoria Dolatowska, added: "The Halloween disco was organised by the Parent Council who hired a local DJ.
"Although they agreed video content ahead of the event, on the night an inappropriate video was played by mistake for a short period.
"This was a very regrettable incident, but it was a case of human error, and both the DJ and parent council have apologised wholeheartedly to the school community.
"Our parent council work very hard to organise fun events and support fundraising activities that benefit all pupils at our school."
---