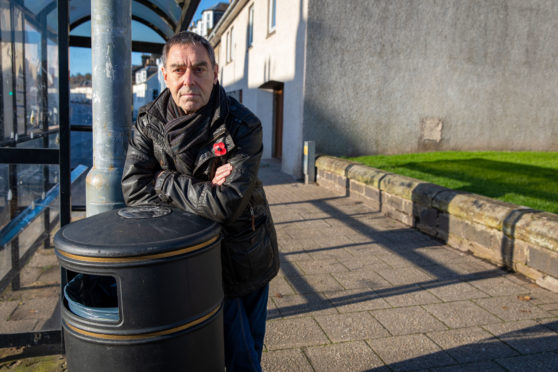 Newburgh residents fear the town will suffer following the loss of their local street sweeper.
Ian Young has been redeployed after Fife Council slashed its workforce by 30%.
Instead, the town will be covered by a mobile team, which patrols the wider area in a van.
Locals said they were sorry to say goodbye to an employee who did so much more than  keep the area spotless.
Mr Young hit the headlines two years ago when he came to the rescue of an elderly woman in Falkland who had fallen in her garden.
Local SNP councillor David MacDiarmid said: "This subject was brought up at Newburgh Community Council.
"They feel that losing an operative with local knowledge will be detrimental to the upkeep of the town. The overall feeling was that Newburgh was once again being neglected."
Local resident John Smith, 68, contacted the Courier to raise concerns about the move to a mobile team.
"They seem to have removed what was a very effective service," he said.
"And I don't see how it's a green policy to have diesel vans constantly driving around Fife rather than have a man with a barrow.
"Ian was excellent at his job and he made a real difference to this town. He was part of this community because he got to know everybody."
Fife Council service manager John Rodigan said the aim was to make street cleansing more efficient.
He said: "We have lost 30% of the workforce in recent years and this has had inevitable impacts for service provision in areas such as street cleansing.
"However, we have embarked upon a significant programme of improvement projects which will make the service more efficient and productive. The new operating model and smarter working practices will lift cleansing standards across all of Fife's streets, parks and open spaces."
Liberal Democrat councillor Donald Lothian said: "For those larger communities which were used to having a dedicated street cleaner, and for the staff themselves, this is seen as a retrograde step. But I suspect that what is important to local residents is the quality of the street cleaning, as opposed to how it is done.
"Many small communities are already satisfactorily serviced by mobile teams and I hope that there will be no diminution of the service anywhere with the new arrangements."
Conservative councillor Andy Heer added: "It's not just happening in Newburgh, it's happening in towns and villages across north east Fife and it's disappointing because the local street cleaner has a sense of ownership and takes a pride in his work.
"I hope that the service manager is right and that new working practices will raise cleansing standards but we will just have to wait and see."
Mr Young was praised in 2017 after he went to the aid of an 85-year-old woman who had fallen while cleaning her bin.
He lifted her onto a garden chair and found a phone number in her house for her granddaughter, who said at the time he had gone "above and beyond the call of duty".