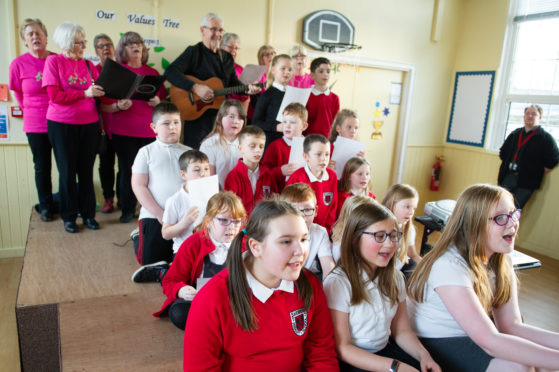 School children in Fife have joined forces with a community choir to produce a vocal tribute to a centuries old local landmark.
Guardbridge resident Bill Wilson has written a special song to mark the special anniversary of the Old Eden Bridge, which is about to celebrate its 600th anniversary.
It was performed by pupils from the local primary school and members of Tayport based choir AChoired Taste, to an audience of children and staff on Tuesday.
The original crossing, which was opened in 1419 was a stopping point for pilgrims travelling through Fife on the way to St Andrews in the Middle Ages.
The current six-arched structure,which spans the Eden estuary, was constructed in the 15th Century and is often referred to as the Wardlaw Bridge, after Bishop Wardlaw, later the founder of St Andrews University.
The bridge once acted as a "statio" or station offering the last overnight stop used by caravans of pilgrims on their way to the Holy City of St Andrews, which was one of the two most important sites of medieval pilgrimage in Europe at the time.
Commemorations to mark the special anniversary have been curtailed because of bridge repairs and Bill said he had been looking for other ways to celebrate the historic landmark when he got the idea for the song.
He said: "It is unfortunate that the necessary strengthening to the New Eden Bridge was scheduled for this year as the community has had to shelve any plans for a commemoration, but at least we now have a song.
"It's called The Pilgrims Way and charts the bridge's story, which P6 and P7 youngsters from Guardbridge Primary School have kindly rehearsed and performed along with help from the choir.
"We're now hoping to get the song professionally recorded so that we can release it on a CD."
Bill said the song was also an attempt to champion the Guardbridge area since he fears it is being forgotten in the wake of new commercial and housing developments in the area.
"The bridge has a rich history which also reflects the the local area, in particular Guardbridge and the song is an attempt to remind people of that rich history," he said.