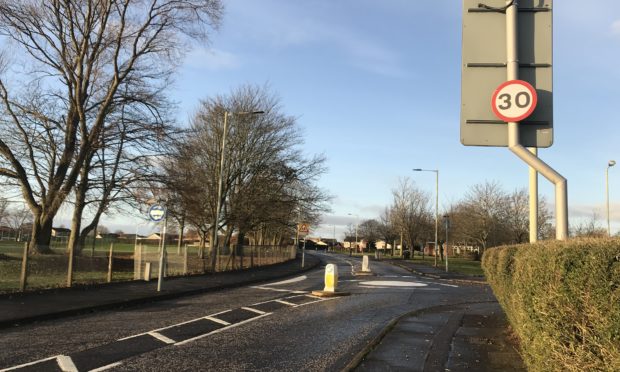 Pupils at a Perth secondary school have been offered counselling and support after a 14-year-old classmate was knocked down by a motorcycle on his way to lessons.
The youngster was taken to hospital following the crash in the city's Viewlands Road on Tuesday morning.
Neighbours ran to the child's aid as emergency service crews descended on the street just after 8am.
Police Scotland said the teenager was hurt, but his injuries did not appear to be life threatening.
Perth and Kinross Council confirmed he was a school pupil and said he was taken to Ninewells Hospital.
The crash happened near a roundabout between Perth High School and the Oakbank Community Centre. The boy was knocked down just outside the 20mph zone.
One resident said: "All of a sudden, there were all these blue flashing lights in the street.
"I ran outside because I was worried my two grandchildren might have been involved.
"I could see someone lying on the street, but I couldn't tell if it was a boy or a girl. It was really terrifying."
Locals said the street was often congested, particularly during the morning rush hour.
Local Liberal Democrat councillor Willie Wilson said the incident highlighted a need for a road safety review outside the region's schools.
"Road safety outwith our schools is vitally important," he said. "We are currently looking at installing new vehicle-activated signs in that area.
"We should also be looking at extending the 20mph zone."
A Perth and Kinross Council spokeswoman said: "We can confirm that a secondary-age pupil was involved in a road traffic collision this morning in the vicinity of Perth High School and was taken to Ninewells Hospital for treatment for non-life threatening injuries.
"We wish them a speedy recovery and any necessary support will be available to anyone seeking it following the incident."
A Police Scotland spokesman said: "We received reports of a collision between a motorcycle and a pedestrian on Viewlands Road at 8.15am.
"The boy's injuries do not appear to be life threatening."
The road was closed for about half an hour, causing delays to some bus services.