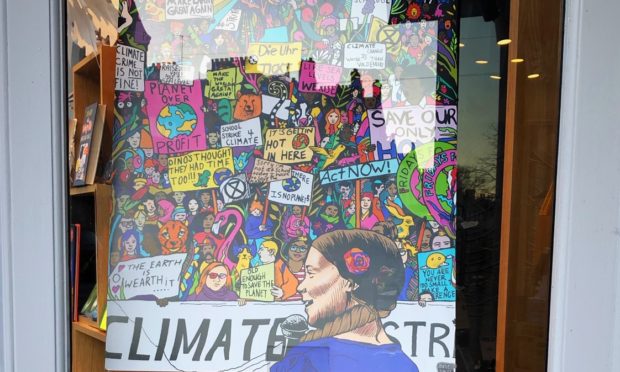 Artwork inspired by environmental campaigner Greta Thunberg has gone on display at a St Andrews book shop.
Artist Sophie Taylor was commissioned by Waterstones and Allen Lane publishers to mark the teenage activist's literature award.
Thunberg was named Waterstones' author of the year for her collection of speeches No One is Too Small to Make a Difference.
The St Andrews store is one of six branches across the UK to display a print of one of three artworks created.
Sophie said: "Each of my pieces centres Greta as the focal point, but I have tried to emphasise the growth and life of flora and fauna.
"I gravitated towards the vibrancy of youth in colour and the scale of nature.
"I have always been inspired by the topic of scale, and how certain aspects of life can feel gigantic to some but microscopic to others.
"Climate change is one of the largest scaled problems we face. As Greta would put it, 'our house is on fire'."
Thunberg's book, published in May, has reached hundreds of thousands of readers and is considered one of the most influential of 2019.
Robin Crawford, St Andrews branch manager, said: "We think this is such an important book that we have donated a copy to each school library in St Andrews.
"The power of the written word to educate is phenomenal.
"The message that no one is too small to make a difference is a vital and urgent one.
"Our customers and booksellers are delighted to have Greta Thunberg as our Waterstones Author of the Year."