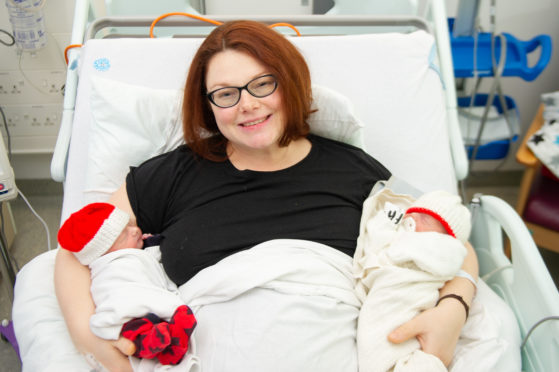 An earlier than expected Christmas Day delivery brought twice the joy for Agata and Szymon Gicz.
Agata, 31, gave birth to Eryk and Henryk on December 25 in Victoria Hospital after going into labour early.
The twins were the fifth and sixth deliveries of the day at the Kirkcaldy hospital, where the first festive bundle arrived at 3.20am.
They were born by Caesarean section after Agata, who was 37 weeks into her pregnancy and was scheduled for delivery five days later, realised at 9am on Christmas morning that a turkey dinner might be off the menu.
She said: "We had had our breakfast then I told my husband we have to go to the hospital.
Dundee's first Christmas babies born just seconds apart in Ninewells Hospital
'He wasn't hanging about': First local Christmas baby of 2019 is little Jacob, born at home just after 1am
"We just had time to get our teeth brushed and we got everything packed and we came here."
Agata, of Cowdenbeath, still didn't believe the babies would be born on December 25 and that it might be another day or two before they came into the world.
But son Artur, 3, was convinced he was going to meet his little brothers later that day.
And she said: "He was right. It was a Christmas miracle for me.
"I am overwhelmed and really excited.
Early surprise for Perth couple as newborn arrives in midst of Christmas Day preparations
"It's going to be nice to celebrate next year when it's their first birthday."
Eryk arrived first at 3.49pm, weighing, 5lb 1oz, and Henryk followed three minutes later, weighing 5lb 13oz.
Agata, a store assistant in Aldi where Szymon is the store manager, said: "You can already see they have totally different personalities. This one is calm and this one is trouble.
"Even before they were born I could feel the difference. In the scans I could see how different they were, one was more active."