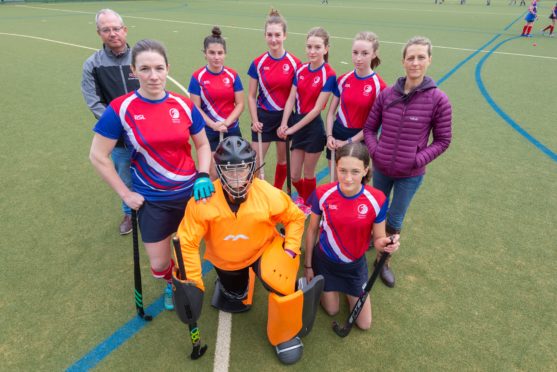 The national governing body has waded into a row about hockey pitches in St Andrews.
Scottish Hockey claims the lack of a 2G pitch at the new Madras College would limit sporting opportunities for people in north-east Fife and significantly impact on club growth.
Politicians are also pushing Fife Council to revert to its original plan for a sand-dressed 2G pitch at the replacement school, instead of two 3G pitches, which are unsuitable for hockey beyond S3 level.
Scottish Hockey said St Andrews had three hockey clubs with 400 members and 60 or more pupils playing outside school hours, but the only suitable pitch was at St Andrews University Sports Centre.
A statement from the body said: "We are proud to be a sport for life and would like to ensure we can expand this in all areas of the country but this decision will have a negative impact on our ability to do so within Fife."
The council's education head Shelagh McLean said provision of a rugby pitch and all-weather pitch at the new Madras was in line with the arrangements at other schools  and would ensure maximum use of the available land.
Station Park will also be used for field hockey and the sports hall for indoor hockey, she said.
"In terms of the Fife pitch strategy for hockey, St Andrews University is the designated east Fife facility," she said.
"Therefore there is provision, within the immediate area, at St Andrews University.
"The artificial pitches which are being installed at Madras are multi-functional to give the broadest access to a range of sports."
Local Liberal Democrat councillor Tim Brett said the agreement allowing school access to the university pitch meant pupils were unable to play hockey matches on a 2G pitch outwith with school hours.
"I hope to see this issue addressed as a means of alleviating the shortfall in provision for hockey in North East Fife," he added.
Liberal Democrat MSP for North East Fife Willie Rennie said he feared participation would suffer if young players have to travel for home games.
He added: "I would seriously encourage Fife Council to reconsider its decision to ditch plans for a 2G pitch at the new school in favour of pitches which are unsuitable for hockey.
"Parents and pupils have expressed their desire for a 2G pitch to be included so I don't understand why the council is not listening."
St Andrews Labour councillor Brian Thomson said the "excellent" deal with the university allowed nine hours access a week, one after school, to its 2G pitch.
He added: "I still think that a 2G pitch at Station Park would be worth pursuing, to provide an additional pitch for community hockey clubs in north-east Fife and, if the local hockey clubs support such a proposal, I'm happy to explore the feasibility of it and try to identify potential funders."