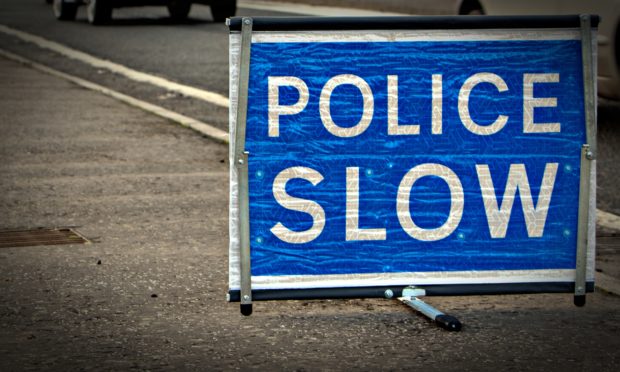 An accident blackspot on the M90, which has been the scene of two fatal crashes in recent months, is to be upgraded, The Courier understands.
Fears have been raised about the northbound stretch between junction four at Kelty and five at Gairneybridge following a raft of accidents since May, with suggestions the surface needs urgent treatment.
The latest serious accident, shortly after 11pm on Sunday, resulted in the death of the front seat passenger of a Renault Grand Scenic.
Police are still hunting for two men they believe were in the car at the time of the accident.
A Police Scotland helicopter seen hovering around the Kelty and Blairadam Forest areas on Wednesday morning, supporting their ongoing investigation.
People living or working in the area have been urged to check their sheds and outbuildings.
Hunt for two men believed to have been in fatal crash car on M90 in Fife
While road operator BEAR Scotland stressed it is too early to say what may have caused this week's fatal crash, the fact there have been several accidents around the same spot has alerted transport chiefs to a potential problem.
The Courier has learned the surface was thought to have been a key contributory factor in the death of 42-year-old soldier Michael Little, who lost his life on the morning of Sunday May 26 when his Skoda Fabia left the road and hit a tree.
Mr Little, who was from High Valleyfield, served in the Highlanders 4th Battalion and was one of two people who suffered serious injuries in the crash.
On October 6, at the same site, two police officers suffered serious injuries when their marked BMW 330 patrol car left the road and crashed on to a grass verge as they responded to reports of a drink driver.
Police officer remains unconscious four days after horrific M90 crash
One of the officers sustained neurological injuries and was in intensive case for several days.
It has also now emerged a woman cheated death just before Christmas at the same accident hotspot, around one-and-a-half miles north of junction four.
Edinburgh woman Katie Bond, 23, had been on the way to Perth on the morning of December 23 when her car flipped after sliding out of control.
She escaped with whiplash, cuts and bruising, but eyewitness Michael Tomassi described the fact she was able to walk away from the vehicle as a "miracle".
He said: "I have been wondering why nothing has been done considering how many accidents have happened here recently."
BEAR Scotland has confirmed a "routine maintenance scheme" is currently proposed within its annual works programme for the 2020/21 financial year to "renew the road surface" along this section, although no firm timescale has been set.
Sunday's latest fatal crash may well speed up that process, but a spokesperson for the road operator did not speculate on what caused the accident.
"We're assisting Police Scotland with their investigation into Sunday's incident and as such it is inappropriate to provide any further comment," the spokesperson added.