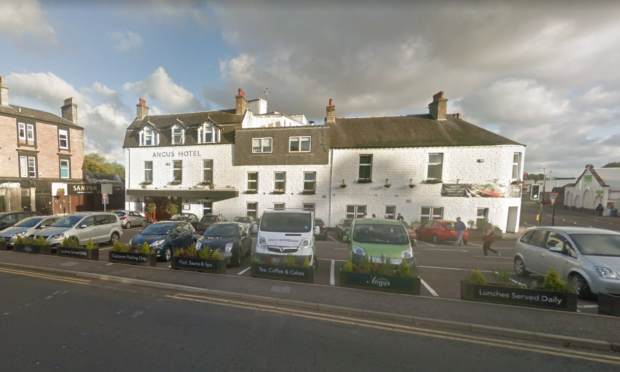 A man who was found semi-naked and asleep, wrapped in a curtain, in the bar of a Perthshire hotel had earlier smashed up his room.
Christopher McDonald was staying at the Angus Hotel in Blairgowrie in March 2018 while he worked in the area.
The 33-year-old went out drinking in the local area before a disturbance was heard in his room. He later left and returned to sleep in the bar.
Depute fiscal Mairi Graham told Perth Sheriff court: "The accused had booked the same room at the locus for around 12 nights.
"In the evening of March 28 he left to go to local bars and became acquainted with Witness Messer. They continued to consume alcohol.
"At 11.58 they returned to the locus and proceeded to the bar. At 1am other guests were in their rooms when they were woken by shouting and crashing coming from the accused's room. This continued for around 30 minutes.
"At 1.37am police received two separate calls from witnesses on Boat Brae. The accused was obstructing vehicles on Boat Brae and running out in front of motor vehicles , forcing them to take evasive action.
"At 3.55am CCTV captured the accused returning to the hotel, where he pulled a curtain from the rail and used it as a makeshift blanket and fell asleep.
"A member of staff observed a semi-naked male sleeping in the bar area wrapped in a curtain and attempted to rouse him unsuccessfully."
She said McDonald was woken by colleagues at 6.30am and left for work. Shortly afterwards staff discovered a chair broken outside McDonald's room and found his room had been smashed up.
When contacted by police McDonald refused to reveal his location and said he was returning home to England to "deal with a family emergency".
Solicitor Paul Ralph, defending, said McDonald was now working elsewhere and added that he could pay compensation to the hotel owners.
Sentencing him, sheriff Keith O'Mahoney said: "This appears to be a fairly bizarre situation, which, it seems, was drink-fuelled."
McDonald, of Wakefield, West Yorkshire, admitted maliciously damaging a room at the Angus Hotel by punching plasterboard walls and a mirror, scribbling numbers and other graffiti on furniture and throwing other items of furniture out of the window.
He further admitted behaving in a threatening and abusive manner on the same date by running in front of moving vehicles on Blairgowrie's Boat Brae, forcing one man to take evasive action to avoid hitting him.
He was ordered to pay £500 compensation to the hotel and to carry out 160 hours of unpaid work.