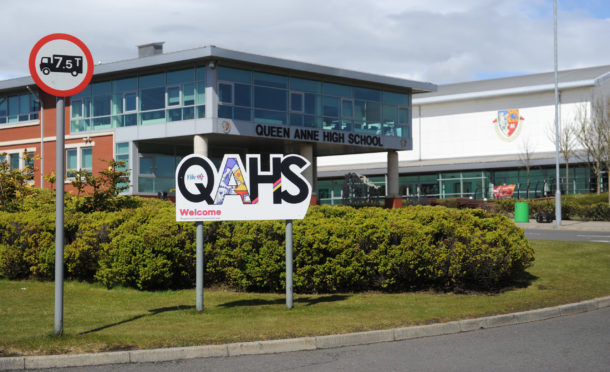 Some secondary pupils in Fife have been told to study at home as schools face "increasing staff shortages".
First to third year pupils at Queen Anne High School in Dunfermline have been told to stay at home on certain days to allow teachers to focus on senior students who are preparing for exams.
In a letter to parents, school rector Ruth McFarlane said: "In response to increasing staffing shortages we are prioritising young people within our nurture hub, integrated support area and the senior phase.
"It is essential that we do everything possible to gather examination evidence and complete SQA courses."
Third year pupils have been asked to study at home on Wednesday, with first years asked to do the same on Thursday, and second years on Friday.
Next week, third years are to stay at home on Monday and Thursday, first years on Tuesday and Friday and second years on Wednesday.
Ms McFarlane said senior pupils face "significant pressures" as they prepare for exams amid the coronavirus epidemic.
And she praised both pupils and staff for their efforts during the crisis.
"We all fully appreciate the significant pressures senior phase pupils are working under at the moment," she said.
"This morning I visited classes across the school to gauge pupil and staff wellbeing alongside progress in completing final coursework, assignments and course content for the SQA examinations.
"The effort and commitment to learning demonstrated by senior phase pupils was excellent.
"Teachers are doing a wonderful job in reassuring our young people and sustaining learning in very difficult circumstances."
Students working at home who receive free school meals have been told they can come into the building to either take away a packed lunch or have a hot meal in school.
Fife Council has not issued blanket advice to schools about closures during the outbreak.
Each school is making its own arrangements depending on how staffing levels are affected.
However teachers across Fife have been asked to prepare for remote learning in the event of school closures, with the situation constantly under review.