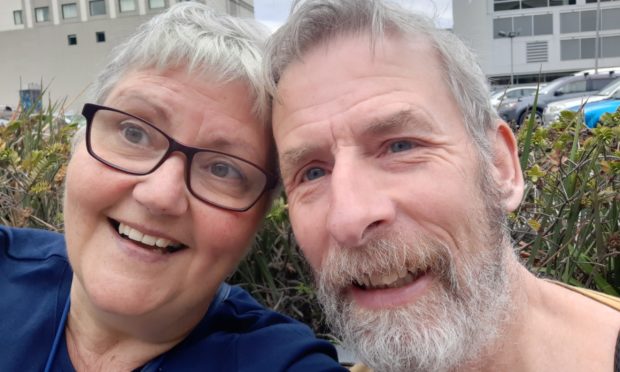 A retired Fife couple are trapped on the other side of the world after a dream holiday turned into a nightmare.
Linda and Gordon Simpson, from Drumoig, were on a six-week trip of a lifetime to Australia when the coronavirus crises escalated.
Their airline cancelled their flight home while they were standing in the check-in queue and when they went to the British Embassy in Brisbane for help, the couple found the door locked.
Linda, 62, a retired teacher, said: "We are trying to remain calm and positive.  Everyone is experiencing extreme difficulty.
"That said – we are obviously feeling worried and anxious to get back home."
Foreign secretary Dominic Raab told British tourists on Monday they should return to the UK while commercial flight options are still available.
The Fife couple had travelled to Australia to visit the Great Barrier Reef and to celebrate their upcoming silver wedding anniversary.
Linda said: "It was the best trip we had ever taken – up until about a week ago.
"We visited the Australia Zoo on my 62nd birthday.  We had a wonderful week on the Sunshine Coast before heading up to Cairns where we visited the rain forest.   We had another couple of nights in Brisbane, before heading to New Zealand, which was stunning."
She said the travel agent then got in touch to offer an early flight home.
"Although we were obviously disappointed we felt that we had had such a great time up until then so going home was the smart option."
But their airline cancelled their flight home Singapore as they were queuing to check in.
"I contacted our travel agent who said they could no longer arrange a flight home for us. They said our best hope was 'repatriation' so we should contact the British Embassy."
A locked door met the couple when they went to seek help.
"Other British tourists were outside and told us the consulate only sees people by appointment but that they were no longer making appointments.
"One of the tourists gave us an email address they had been told to contact."
The couple, who are currently stuck in Brisbane's Holiday Inn Express Hotel, said they have not had a response to the email.
"Being locked down at home is obviously preferable to being locked down on the other side of the planet," said Linda/
"Australia wants us to leave. We want to leave. What we need now is a flight back home."
Their daughter, Victoria Leonard, who lives in Cupar, said: "To be told they need an appointment, but there are no appointments, is a bit much.
"At least they are safe, but my brother and I and the rest of the family just want them home," she added.
A Foreign and Commonwealth Office spokeswoman said: "We recognise British tourists abroad are finding it difficult to return to the UK because of  the unprecedented international travel and domestic restrictions that  are being introduced  around the world – often with very little or no notice."
She said the government was seeking to keep key transit routes open as long as possible.
"Consular staff are supporting those with urgent need while providing travel advice and support to those still abroad," she added.