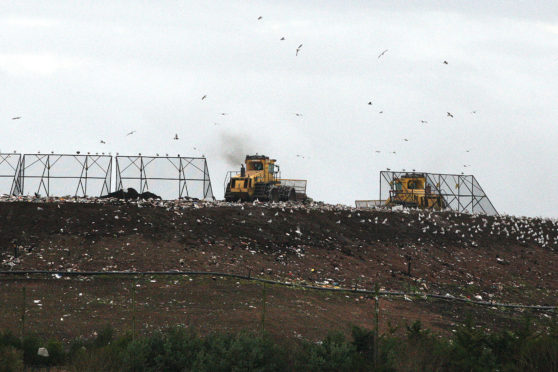 A resolution once-and-for-all to the Melville pong has been demanded despite coronavirus restrictions.
Operators of Lower Melville Wood landfill site have less than a fortnight to complete capping work intended to eradicate the offensive odour which has plagued the area near Ladybank for years.
And with people at home round-the-clock due to Covid-19 guidance, local politicians said it was more important than ever that the stench was snuffed out.
Fife Resource Solutions, which runs the rubbish dump on behalf of Fife Council, was ordered to undertake the work by environment watchdog Sepa by March 9.
Delays were blamed on storms during February but the company insisted it was confident it could complete the work by its new deadline of April 13.
North East Fife MSP Willie Rennie said: "Almost everyone is stuck at home just now so any pungent smell in the area is an issue that is with them all the time.
"We understand that everything is strained with the coronavirus but I hope the company and the council are able to get this fixed."
Mr Rennie said that while letters were being exchanged between FRS and Sepa over the deadline extension, people were unable to open their windows or sit in their gardens some days.
He added: "If there's any reasonable explanation for this lengthy delay, I would be keen to hear it.
"Once the cap is put in, it should remove the source of the smell and make the whole area more pleasant for everyone there once again."
The area's MP Wendy Chamberlain said: "My constituents have been fed up for a long time living around the pollution of the site that is more than unpleasant, it has impacted the quality of their life.
"Sepa does have stronger regulatory powers, I hope that this matter can be responsibly resolved by the waste management."
FRS chief operating officer Robin Baird said: "Sepa issued an extension due to the severe weather events in February and we are confident, despite the recent unprecedented world events, to complete the works as per the new schedule."
A Sepa spokeswoman said: "Compliance is non-negotiable and in response to complaints, we're taking firm enforcement action against the operator including an enforcement notice detailing the actions required to urgently bring the site to compliance.
"We recognise that some of the landfill engineering work is weather dependant and given the recent period of prolonged severe weather, we accepted a new deadline of April 13, 2020."