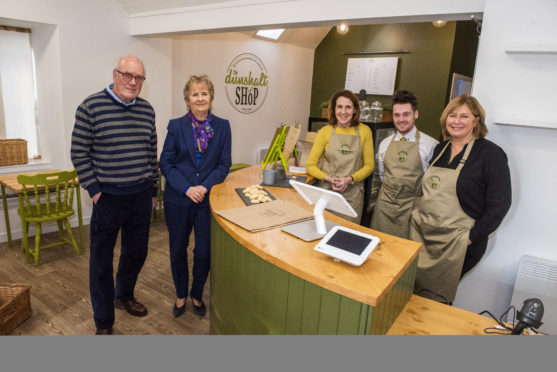 A community shop that started trading just two weeks before lockdown has become a lifeline for elderly and self-isolating residents of a Fife village.
Dunshalt Village Shop, which only just opened its doors when it was forced to close them again because of the  crisis, has instead set up a home-delivery operation to get food, prescriptions and other essentials to locals.
Eleanor Porter, chairwoman of Dunshalt Community Shop, said the shop was too small to allow them to operate safely, which is why they opted for the chance to make deliveries instead.
"We take orders by phone and email between 8am and noon and our volunteers deliver them in the afternoon.
"We have been contacted by people in Edinburgh and other areas who have been unable to get food to their elderly parents.
"We are having a booklet printed with a full list of everything we stock and are distributing copies with every order, and we are also picking up prescriptions for anyone who needs it."
The shop was set up following £97,500 of funding from the Scottish Land Fund and £30,000 raised by Dunshalt residents.
The shop has now received a further £5,000 in emergency funding that has allowed it to employ someone to administer online and telephone orders.
"The crisis has brought the whole community together and has brought home the value of the shop," said Eleanor.
"In Dunshalt we don't have a church, a school of the pub and very rapidly the shop has become the hub of the village.
"And with so many people self-isolating I just can't image how the community would have coped without the shop."
Meanwhile, an East Neuk food market has gone online for coronavirus lockdown and beyond.
Bowhouse's regular markets for local food and drink producers have been put on hold during the crisis.
However, it has brought its stallholders together on the internet, allowing customers who would normally come to its St Monans premises to continuing buying.
Launched in 2017, Bowhouse's monthly markets offer goods from artisan producers made using local ingredients.
Through Bowhouse Link people can order essentials like milk and eggs as well as produce including organic meat, flour and vegetables, locally brewed beer and wine, freshly ground coffee and flowers.
The service will continue and be expanded even after restrictions are lifted.
Rosie Jack, market manager, said: "This is an incredibly difficult time for so many people, and as smaller food and drink producers struggle to get their produce out to those who need it, Bowhouse can provide a useful link.
"While we've had to cancel our market weekends, this has given us the chance to set up this virtual market, which will continue long after the coronavirus lockdown has come to an end.
"This has shown that there's a real appetite for local food and drink and we really hope that people will continue to support these producers in the long term, helping to sustain what is an outstanding food and drink landscape in Fife."
During a short trial of the service, starting on Monday, deliveries will be restricted to the East Neuk.