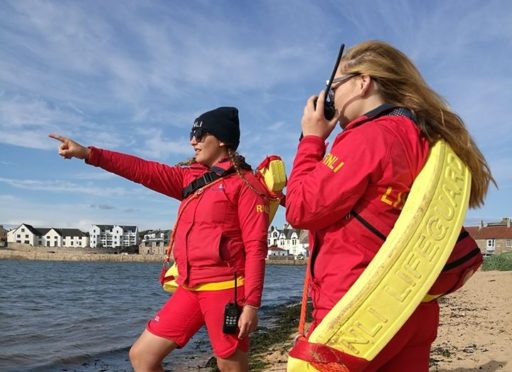 Lifeguards will return to two popular Fife beaches this weekend after the enforced lockdown layoff.
But members of the public have still been warned to take responsibility for their own safety in the hope that the lifesaving personnel are not required in the event of an emergency.
The RNLI has confirmed that its reduced lifeguard service will resume on 38 beaches up and down the UK from Saturday onwards after coronavirus restrictions caused havoc with training preparations.
Only three Scottish beaches will be manned, two of which are in the kingdom, with staff at Aberdour Silver Sands and St Andrews East Sands – along with Coldingham Bay in the Borders – anticipating an influx of visitors if the weather holds up.
Although lockdown measures have eased slightly, a spokesperson for the RNLI has urged people to respect the current social distancing guidance of two metres and refrain from touching operational equipment.
"Our normal safety messages still apply – always swim and body board between the red and yellow flags," the RNLI said.
"In an emergency shout for the lifeguard, or on non life-guarded beaches call the Coastguard on 999 or 112. Never attempt a rescue yourself."
The coastal lifesaving service has been augmented every year since 2001 by the RNLI Lifeguard service which has grown from small beginnings to cover more than 250 beaches with 1,600 paid, predominantly seasonal, lifeguards at the height of a normal summer.
Highlighting the challenges faced this year, Stuart Popham, RNLI chairman, explained: "This service is provided under annual contract to local authorities and landowners who have a statutory obligation to maintain safe conditions on their land.
"Many additional beaches (probably around 500 accessible to the public) have no lifeguard cover at all.
"This year, extremely challenging circumstances have delayed the normal roll-out of the RNLI service which starts at the end of February and continues until the final beaches are covered in mid-July.
"The practical elements of this roll-out include recruiting, training, equipping and moving physical infrastructure to beaches and all of this was interrupted in England from March 25 to May 10 and is only now possible in the rest of the UK.
"Those are not excuses, just facts."