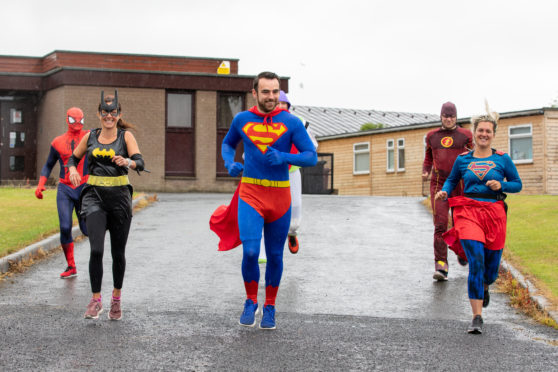 Is it a bird?
Is it a plane?
No, it's Superman and a group his costume-clad superhero friends delighting  youngsters in Fife at the weekend as they took to the streets for an impromptu spot of exercise.
Dalgety Bay resident Nic Green, normally a parts advisor for an Edinburgh Mercedes dealership, has been entertaining locals since the coronavirus began by jogging in full Superman costume in an effort to spread a little light relief during the coronavirus lockdown.
Despite the wind and rain, Sunday was no exception as he was joined by Duloch's  Spiderman, Dave Roper, 36, a finance analysis; Crossgates very own Buzz Lightyear aka baker Andy Spence, 35; Batgirl, Carol Quoi, 39, a chiropractor; the Dunfermline Flash, teacher Geoff Nicholson, 33; and Supergirl, Debbie Miller, 34, a Rosyth hairdresser,  in a show of superhero camaraderie.
As well as providing the entertainment, the joggers have used the time pounding the Fife streets to raise nearly £8,000 to support Calaiswood School in Dunfermline which works with children with additional needs.
Nic said the idea of running round the streets with cape and costume started out as a bit of a laugh, but it had grown into something much bigger.
"It's been phenomenal really and the public support has been really positive. The fact that we have raised almost £8,000 for the school has been fantastic," said Nic.
"All of the superheros have now become firm friends and as we begin to come out of lockdown there's a real sense that we should carry it on in in some form in the future.
"We even have our own whatsapp group to keep us all motivated, and every one of us had said we've become fitter so that's great too."
Supergirl, Debbie said the best thing about it was the reaction from youngsters, some of whom have been getting dressed up to support them.
"It's a bit of fun and worth it to see the smiles on kids faces when we stop to wave or pose for a photo, it keeps us going," she said.
Residents cheered from doorsteps and windows along the two mile route around Dalgety Bay and the heroes were regularly called upon to pose for photos as they jogged past.