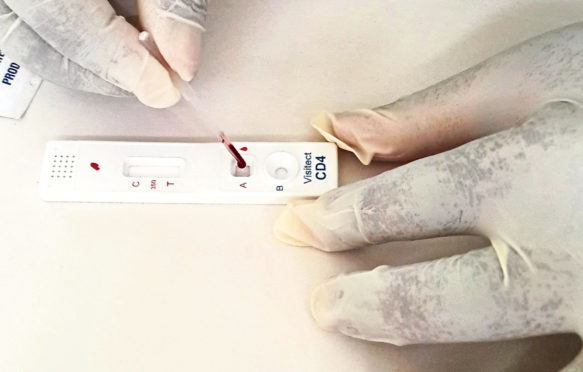 Testing for HIV in Fife can now be carried out at home, the region's health and social care partnership has announced.
The new free home self-testing kit has been designed to make testing easier and should lead to more people being diagnosed with the condition earlier.
Fife Health and Social Care Partnership's sexual health and blood borne virus (SH&BBV) services worked alongside HIV Scotland, Waverley Care and the Terrence Higgins Trust Scotland to develop the kit, which should give results within 15 minutes.
Heather Bett, Fife's executive lead for SH&BBV, said: "Early diagnosis of HIV infection enables better treatment options and reduces the risk of transmitting the infection to others.
"The free home testing kits are particularly effective tools during the coronavirus pandemic. They will help people get tested and treated early if they test positive.
Anyone who thinks they may have been at risk of contracting HIV is urged to seek advice about accessing a test from their GP or to order one online from www.hivtest.scot and www.tht.org.uk.
Dr Naomi Bulteel, a consultant in infectious diseases in Fife, said GPs and clinicians were also being reminded of the importance of considering an HIV test as part of routine examinations, particularly where people may show symptoms of undiagnosed HIV.
"The earlier someone is diagnosed the better. Advances in medicines mean that people with HIV on effective treatment can live healthy lives with zero risk of passing on the virus sexually," she said.
The development has been welcomed by HIV Scotland, which is supporting a global bid to reduce cases to zero by 2030.
Chief executive Nathan Sparling said: "For most people, self-testing is fast, safe, accurate and convenient – and it provides people with another option that can help people get swift access to treatment if needed.
"It's important for everyone to know their HIV status so they can protect their health and that of their partners too."