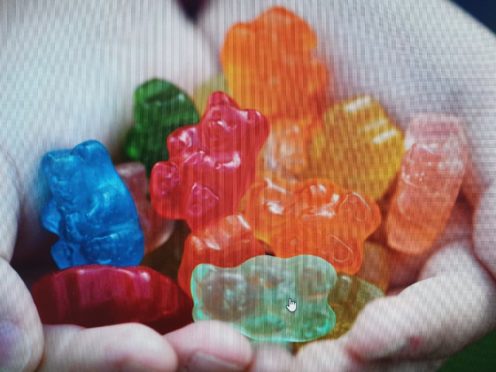 Gummy bear sweets containing cannabis are being sold among children in Tayside and Fife.
Police in Kinross have confirmed they are looking into the issue, amid concerns so-called 'CBD gummies' could be the latest trend spreading among youngsters following their success in other countries.
Cannabidiol (CBD) is one of 144 identified cannabinoids found in marijuana plants and is increasingly common in oil form or in foodstuffs to for pain relief and to treat mental ailments like anxiety, stress and depression.
Many such products are legal in the UK, provided they do not contain cannabis plant or tetrahydrocannabiniol (THC), the component of the drug that can cause a "high" and can have a psychoactive effect on users.
However, there are fears operators are cashing in on the CBD rules by substituting cheap and illegal synthetic marijuana for natural CBD in vapes and food such as gummy bears.
Sweets containing cannabis were seized at a school in Surrey last year after pupils were found to be spending £25 for two gummy bears and police here are now following up emerging reports here.
Although further details on the nature of the reports in Kinross have not been divulged, PC Atholl Spalding, response officer for the Kinross area, confirmed the apparent new trend was being probed locally.
"Any information on this please get in touch and please keep your eyes and ears out," he said in a Twitter post.
The World Health Organization's Expert Committee on Drug Dependence (ECDD) has ruled that CBD has no psychoactive properties, no potential for abuse, no potential to produce dependence, and in short, "no significant ill-effects".
However, other studies suggest people have reported side effects such as diarrhoea, reduced appetite, dry mouth and nausea when consuming too much CBD, and some animal studies have shown that CBD could harm the health of their livers – although evidence has not been conclusive.
Worries also remain about the source of the products themselves and whether or not they may actually contain THC, the intoxicating component which can make children and teenagers especially feel light-headed, disorientated, nauseous and increasingly anxious.
Five children were rushed to hospital in the US state of Florida after overdosing on THC-infused gummies last year, prompting the American Association of Poison Control Centers to describe CBD as an "emerging hazard" due to the potential for mislabeling and contamination.
Anyone who has any concerns or information about the products in Tayside and Fife should contact Police Scotland on 101.