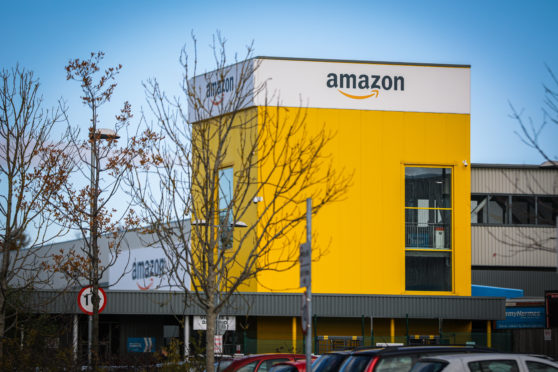 Concerns have been raised among staff at one of Fife's biggest employers after confirmation than an employee at Amazon's site in Dunfermline has tested positive for Covid-19.
The company confirmed the news that a staff member at its Dunfermline Fulfillment Centre, which employs around 1,000 people, had tested positive for the virus and stressed it was continuing to take all possible measures to keep both staff and customers safe.
The development has been described as the "worst possible news" by one employee.
The staff member, who asked not to be named, added: "It's everyone's biggest fear that someone you work with tests positive and there is obvious concern among the colleagues I've spoken too now that a case has been confirmed here.
"Everyone is now just hoping it's a one-off and doesn't escalate into something bigger."
A spokesperson for Amazon, said: "Since the early days of this situation, we have worked closely with local authorities to proactively respond, ensuring we continue to serve customers while taking care of our associates and we're following all guidelines from local officials about the operations of our buildings.
"We have implemented proactive measures at our facilities to protect employees including increased cleaning at all facilities, maintaining social distance in the fulfilment centre  and adding distance between drivers and customers when making deliveries."
The confirmed case comes just days after other covid-19 cases in Fife.
Earlier this week, a pupil at Queen Anne High School in Dunfermline tested positive for the virus while a confirmed case was also found at Newburgh nursery on August 22.
The Amazon case also comes just a day after the tech giant unveiled expansion plans for its operation in Fife and Dundee with the promise of 200 permanent new jobs as part of a UK-wide expansion programme designed to meet the boom in online shopping.