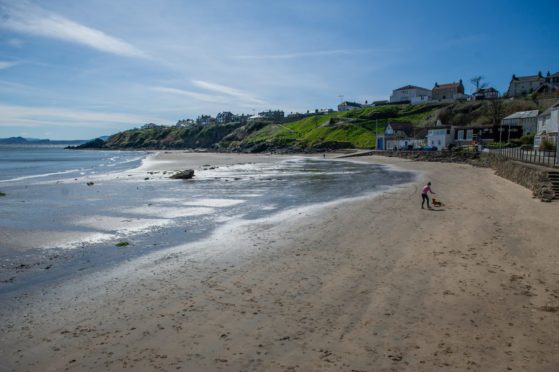 A concerted campaign to improve water quality at a Fife beach has proved a success.
Environmental charity Keep Scotland Beautiful launched its 'My Beach, Your Beach' initiative in mid-July to tackle issues at six of Scotland's most best loved sites using targeted techniques to change people's attitudes and behaviour.
Kinghorn Beach was chosen – along with Portobello, Fisherrow Sands, Ayr, Troon and Irvine.
Campaign messaging on bins encouraged people to dispose of waste responsibly, while an online programme including advice, quizzes, photo galleries and a virtual 'Doggy Ambassador' competition reached nearly 7,000 locals.
Research done by the charity has now revealed that while 38% of people think dog poo is an issue and 56% believe litter is an issue at Kinghorn Beach, around 80% of those surveyed in the area have said they are willing to pick up litter when visiting the beach to leave it cleaner than they found it.
Litter levels at Kinghorn were reduced by more than three quarters over the course of the summer as a result.
Jeremy Harris, chief executive of Fife Coast and Countryside Trust, said: "Beaches, like other areas of countryside and open spaces, have been particularly well visited and appreciated during the pandemic this year by people enjoying some time outside.
"Although visitor numbers have been higher than usual this year, particular during good spells of weather, we have been working hard to ensure that all the beaches we manage, including Kinghorn, have been well looked after and we'd like to thank the local community for the active part they play in that."
The campaign, funded by the Scottish Government and supported by SEPA, was led by Keep Scotland Beautiful alongside its Upstream Battle and Clean Up Scotland campaigns and annual Beach Awards.
All six of the beaches selected have faced challenges in improving the quality of their bathing water as measured by SEPA, and research confirms a significant link between behaviour on the land and the cleanliness of the local seawater.
Paul Wallace, campaigns and innovation manager at Keep Scotland Beautiful, said: "We're grateful to both council staff and members of Kinghorn Harbour Residents Group for working tirelessly to keep the beach clean for everyone to enjoy and are delighted to find that, following this summer's campaign, over 80% of people from communities locally have shown an interest in picking up litter at Kinghorn beach when they visit, to leave it cleaner than they found it.
"Cleaner sands can lead to cleaner seas – a win win for our beach environments and communities."