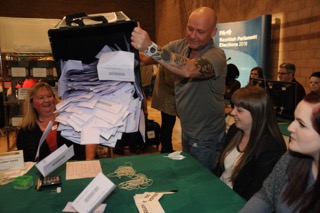 Ballot boxes are arriving at Rothes Halls in Fife as votes are counted for the Dunfermline and Cowdenbeath constituencies.
Scottish Labour's deputy leader Alex Rowley has fought to hold onto the Labour heartland of Cowdenbeath.
With Annabelle Ewing aiming to bring the constituency into the SNP fold, his challenge is tough and the outcome will be among the most eagerly anticipated.
Mr Rowley took the seat in a by-election in 2014, following the death of Helen Eadie.
He said: "I have worked hard and put forward a very positive case so it's in the hands of the voters now.
"I'm realistic about where the polls are but we have worked hard for every vote and I have worked hard as a local MSP in the area, so we'll see if that helps."
Ms Ewing said: "I am very proud of the positive campaign that team Cowdenbeath SNP have run.
"We have literally spoken to thousands of voters across the constituency and we now await the people's voice."
Also contesting the seat is Conservative Dave Dempsey, who is a Fife councillor, and the Liberal Democrats' Bryn Jones.
Mr Jones is standing for election for the first time.
As the count began last night he arrived early to watch the papers being counted at the end of a long campaign.
Not expecting to be a serious challenge to Labour's Alex Rowley or Annabelle Ewing, for SNP, he hoped to have helped ensure the election of party leader Willie Rennie as a list MSP.
He said: "People have been very positive towards us during the campaign.
"We are hoping to have grown the party in parliament.
"My main reason for running is to boost votes for Willie Rennie so I'm hoping that we will see a lot of votes for him, and hopefully a lot of votes for me too."
The Dunfermline by-election battle of 2014 is being repeated between the SNP's Shirley-Anne Somerville and Labour's Cara Hilton, which was won by the latter two years ago.
Also in the running are James Calder, for the Lib Dems, and James Reekie, for the Conservatives.
Ms Somerville said: "I'm certainly pleased with the campaign we put together and the number of activists we had out.
"It's too early to tell.
"The turnout looks good and I'm pleased with that but we'll just have to see."